A new Centre for Engineering Innovation: Agriculture & Ecological Restoration has been formally opened at The University of Western Australia by State Innovation Minister Stephen Dawson.
The multidisciplinary centre (CEI:AgER) offers expertise across engineering, plant biology, agronomy, animal production and ecosystem restoration and aims to enhance the social and economic value and sustainability of agricultural and environmental resources.
It was founded in 2021 within UWA's School of Engineering, with endorsement from the UWA School of Agriculture and Environment, by multi-award winning engineering innovator and theme leader for The UWA Institute of Agriculture Dr Andrew Guzzomi.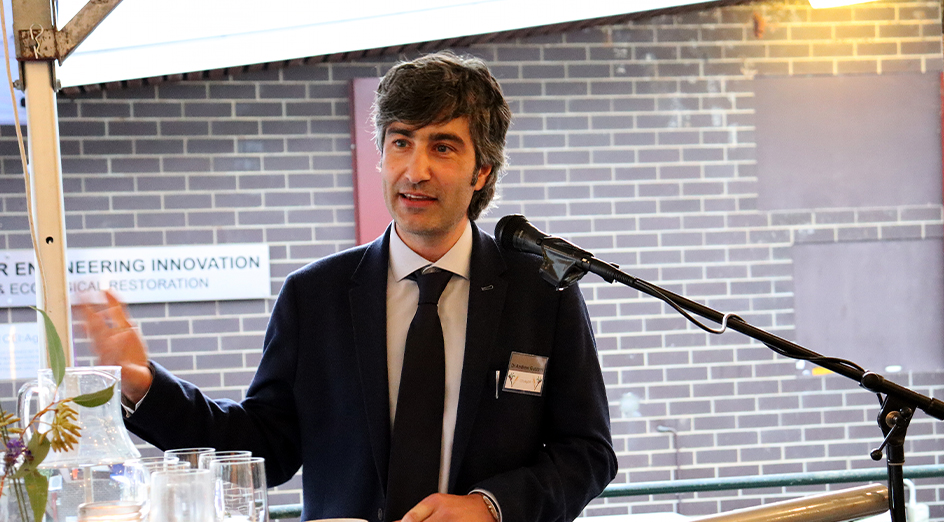 Image: Dr Andrew Guzzomi at the opening.
Dr Guzzomi has twice been awarded WA Innovator of the Year in the emerging category – in 2016 for the Seed Flamer, a tool that makes native seeds easier to handle; and in 2019 for the Weed Chipper, a ground-breaking alternative to the use of herbicides for fallow weed control.
In 2018, Dr Guzzomi won a Tall Poppy Award from the Australian Institute of Policy and Science and a 40Under40 Award for forging UWA's agricultural engineering research strength.
"The centre comes on the back of UWA building strong relationships with innovative farmers and industry groups and our sustained track record of solving interdisciplinary challenges facing the agricultural and environmental sectors," Centre Director Dr Guzzomi said.
"At CEI:AgER we leverage existing and build new interdisciplinary partnerships between UWA, industry, government, farmers and scientists across Australia and increasingly internationally. Using Western Australia's unique agricultural and ecological systems as a proving ground, CEI:AgER endeavours are helping us tackle the UN's Sustainable Development Goals."
Research and development areas will focus on sustainable farming systems and environmental rehabilitation through the development and use of novel design methodologies and practical solutions to real-world problems.
"CEI:AgER is located 7km from the UWA Crawley campus at the UWA Shenton Park Field Station, with facilities including a Seed Flaming Lab, Prototyping Workshop, rainfed and irrigated plot land, netted areas, greenhouses, and temperature controlled spaces perfect for field testing and de-risking engineering innovations in semi-realistic environments in order to develop commercially adoptable solutions," Dr Guzzomi said.
"Our team includes a number of dedicated and highly qualified academic staff, postdoctoral research fellows, research assistants, research officers, higher degree by research candidates and support staff who are based on-site."
CEI:AgER will present at the UWA Shenton Park Field Station 2022 Open Day on September 23. All members of the public are invited to register to attend via Eventbrite.
Media references
Annelies Gartner (UWA PR and Media Manager) 6488 3229