The Western Australian winners of the Australian Brain Bee Challenge were celebrated at a recent awards ceremony at the Perron Institute.
The Australian Brain Bee Challenge is the country's only neuroscience competition for high school students.
The University of Western Australia, the Perron Institute and the Neurotrauma Research Program support the WA competition within the national event.
Professor Romola Bucks, Pro Vice Chancellor (Health and Medical Research) at UWA, awarded the prizes.
In her speech, she mentioned that as a neuropsychologist, she has a personal and professional interest in brain health.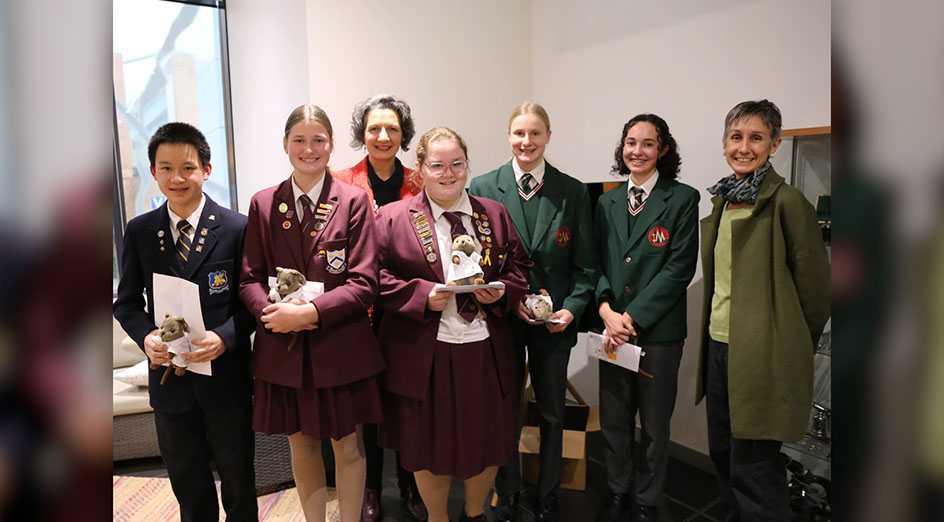 Image: The Brain Bee Award winners for 2022.
Professor Bucks has spent her career studying risk factors for changes in memory and thinking skills and dementia, and said good sleep was an important resilience factor.
"Science, and neuroscience in particular, is a great thing to do," she said.
"It's not just one topic, it encompasses a broad range of disciplines, including mathematics, physics, chemistry, biology, engineering, computer science, psychology and medicine.
"There is still so much to discover about how the brain works, so it's important to nurture our future generations of scientists and neuroscientists."
The Brain Bee State Coordinator is Associate Professor Jenny Rodger, senior MSWA Research Fellow and head of Brain Plasticity Research at UWA and Perron Institute.
Associate Professor Rodger has been involved in the Brain Bee for 15 years and coordinated a visit to UWA as part of the competition as well as helped present prizes.
The overall winner of the WA competition was Santi Chua (Perth Modern School).
Santi was encouraged to take part in the Brain Bee by his science teacher Mr Ant Meczes.
"It's so interesting to learn new content about how the brain and body work," he said.
"For example, how we feel pain and sense things, it's all happening within us, it's so fascinating.
"The prospect of representing WA in the national competition is a special and unique opportunity."
Six WA schools took part in the team video competition, the winning video was created by St Mary's Anglican School for Girls titled 'Lucid Dreaming', a well-researched and executed explanation of the conscious dream-stage of sleep.
For the second consecutive year, Bunbury Catholic College received the People's Choice award for their clever video: 'The Central Nervous System (A Song)'.
The Australasian Cognitive Neuroscience Society and Neurotrauma Research Program sponsored prizes for the event.
Congratulations to the winners and participants and thank you to all involved.