The University of Western Australia has a continual roll call of awards, scholarships and prizes presented to staff and students.
To recognise these achievements, an article is published on the UWA news page on the website and in UWA Forward on the first week of every month. If you know of great awards or achievements across the University please email uwamedia@uwa.edu.au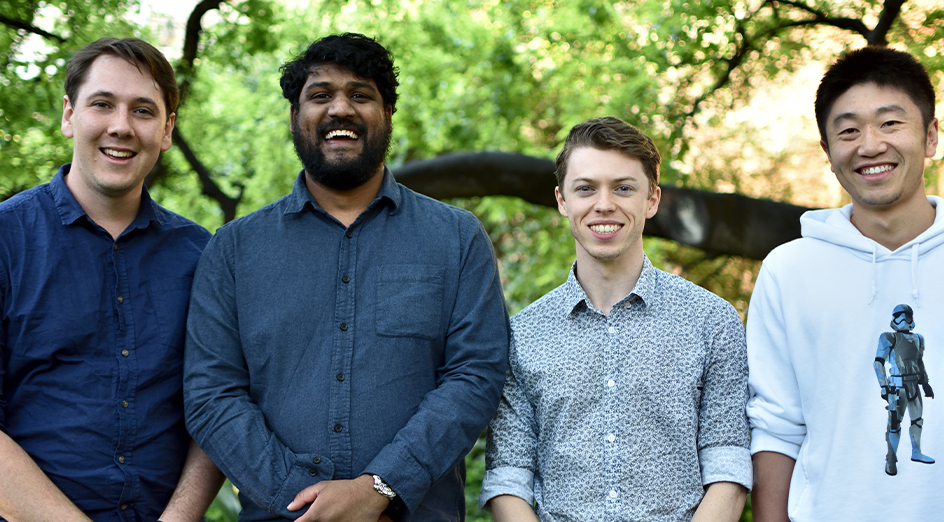 Image: Tasman Gillfeather-Clark, David Nathan, Luke Smith, Lu li
Name: Tasman Gillfeather-Clark, David Nathan, Luke Smith, Lu li (UWA School of Earth Sciences)
Achievement: UWA PhD students Tasman, David, Luke and Lu have taken out second place in an international competition focused on geoscience data interpretation and targeting. The Frank Arnott - Next Generation Explorers Award gives university students the opportunity to engage with large industry datasets. The team's submission was a plugin called Earth Blender, which supports powerful rendering of traditional geophysical datasets, to assist the interpretation of geoscience data.
Name:Dr Lucy Furfaro, UWA Medical School
Achievement: Dr Furfaro, a Raine/Robson and Forrest Prospect Fellow in Obstetrics and Gynaecology, has been nominated in the WA Young Achiever Awards for her research to improve safety for mothers-to-be during their pregnancy. The Young Achiever Awards promote the positive achievements of young people throughout Western Australia. Dr Furfaro is leading a study on bacteriophages, a virus and natural predators of bacteria, while focusing on treatment of infections during pregnancy.
Name: Professor Cassandra Berry, UWA School of Biomedical Sciences
Achievement:UWA alumna Professor Berry was selected for Homeward Bound 6, joining a group of other women in science, technology, engineering, mathematics or medicine. Homeward Bound is a global leadership initiative that aims to heighten the influence and impact of women in making decisions that shape the planet.
Name: Professor Stephen Powles, UWA School of Agriculture and Environment
Achievement: Emeritus Professor Powles was awarded the National Grains Research and Development Corporation (GRDC) Seed of Gold in recognition of his lifetime of service to the grains industry. Professor Powles, a global herbicide resistance expert, is only the fourth recipient of the prestigious award. He led the WA Herbicide Resistance Initiative at UWA following its establishment and has mentored and supervised several UWA PhD students and postdoctoral researchers over the course of his career.
Congratulations UWA staff and students.