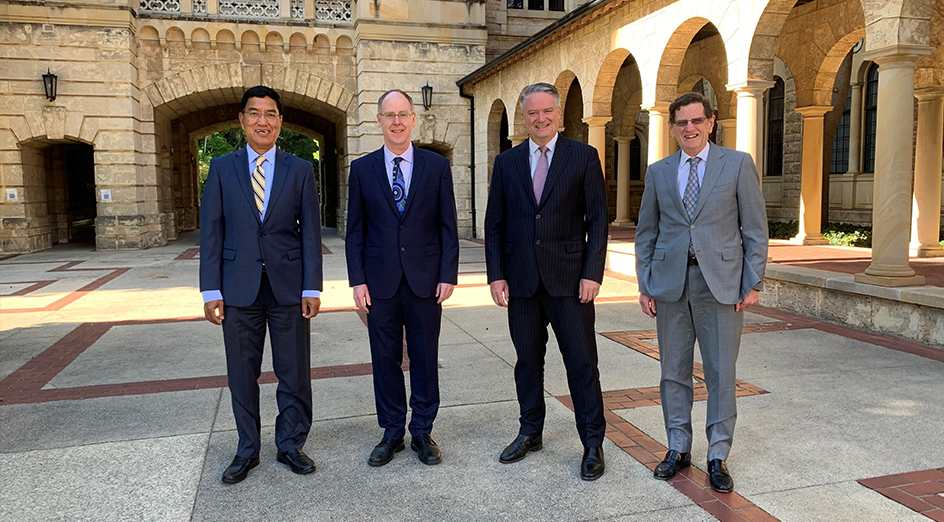 The University of Western Australia has appointed Australia's longest-serving Finance Minister, the Hon Mathias Cormann, as an Adjunct Professor in the UWA Business School.
In this new capacity, Adjunct Professor Cormann will contribute to the UWA Business School by guest speaking at MBA Masterclasses, giving special lectures in undergraduate and postgraduate courses and offering support to academic researchers.
Adjunct Professor Cormann will also collaborate with academic bodies at UWA, such as the UWA Public Policy Institute.
Adjunct professorship is a voluntary and honorary appointment, and holders of the title contribute as an act of service to the community. Adjunct academics usually hold concurrent non-academic positions outside the University.
UWA Vice-Chancellor, Professor Amit Chakma said he was pleased to welcome Adjunct Professor Cormann to the University.
"Mathias Cormann's distinguished career in public life more than qualifies him for this honorary position at UWA," Professor Chakma said.
"Professor Cormann's experience as Minister for Finance, in particular, will be of immense value to the UWA Business School's students and staff.
"I fully support Australia's bid for Adjunct Professor Cormann to become the next Secretary-General of the OECD and we will adjust his program at UWA as necessary if he is chosen to serve in that role.
"I am confident that the knowledge Professor Cormann will offer UWA's teaching program will substantially augment our students' learning experience."
Adjunct Professor Cormann said he loved Western Australia and looked forward to serving the next generation of WA leaders through teaching activities at UWA.
"Wherever my career takes me in the future, and yes of course I would love to serve OECD members as their next Secretary-General, Western Australia will always be home for me and my family. I'm truly thrilled that the University of Western Australia has given me this opportunity to contribute in this voluntary capacity," Professor Cormann said.
"I have always believed in the power of education. It lifts our social and economic wellbeing, developing knowledge and skills and creating great opportunities both for our students and for our community. I am delighted to be able to share my experiences as Finance Minister with students.
"I am looking forward to sharing in UWA's mission to advance the prosperity and welfare of the people of Western Australia."