A group of UWA Master of Architecture students has won an Editor's Choice award in the international Re-imagining Play International Design Competition for their design of a refugee camp learning and play unit.
The competition challenged university students from around the world to design a playground that would help children learn and play in the Kutupalong refugee camp in Bangladesh.
UWA students Calvin Thoo, Lyana Ibrahim O Mahat, Nurul Azman and Nur Hafizah Mohammad designed a 'Tool Kit' of Self-Resilience.
The group's playground is made entirely of recycled plastic waste, with discarded drink bottles and either items being turned – through 3D printing – into a series of primary structures, joineries and independent components.
Members of the Kutupalong refugee camp community are then able to assemble, disassemble, re-assemble and repurpose these parts.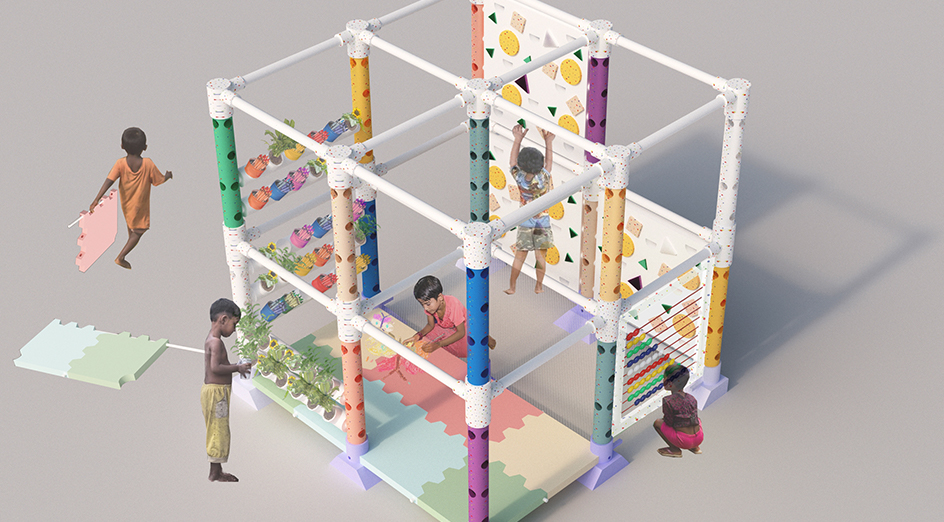 Image: The 'Tool Kit' of Self-Resilience in its 'Education' variation.
Dr Rosangela Tenorio, co-founder of the Bio-Based Materials Design Lab, said the students approached the design from multiple perspectives.
"The students aimed to re-imagine play through the study and understanding of psychological and socio-cultural issues in the refugee camp with a strong environmental and affordability focus," she said.
"This design offers learning and play variations for 'active', 'rest', 'educational' and 'mixed' approaches, which can be changed to suit the needs of individual children and groups."

Dr Rosangela Tenorio
"Importantly, the project includes a circular design to ensure the sustainability of resources and help reduce waste and pollution within the camp."
The 'Tool Kit' of Self-Resilience design has been invited to feature in the XYZ Yearbook 2021-22. Two other entries from UWA student groups were also shortlisted in the competition.
Students were assisted by support staff from the Bio-Based Materials Unit ARCT5885: Dr Rosangela Tenorio, Dr Jairo da Costa Junior, Christian Wetjen, Deepti Wetjen, Dr Alexandra Meek and Dr Raquel Scartezzini.