When British stage and Hollywood film legends Sir Laurence Olivier and his wife Lady Vivien Leigh (Olivier) arrived in Fremantle, Western Australia, in early 1948 for a six-month Australian tour, thousands of fans lined Victoria Quay to welcome the 'golden couple' after they disembarked the newly launched ocean liner Corinthic.
Sponsored by the British Council, the touring party also included 30 other members of the famous London-based 'The Old Vic' theatre company. An eight-day season of Sheridan's School for Scandal was performed at the since-demolished Capitol Theatre in Perth; and during their leisure time the company enjoyed a boat trip on the Swan River.
Sir Laurence and Lady Olivier's touring schedule also included a visit to The University of Western Australia to attend a performance of Oedipus Rex commemorating the opening of The University's Sunken Garden Amphitheatre. Reportedly, the couple enjoyed the performance and, nearly 20 years later Sir Laurence sent a congratulatory telegram when the University opened its New Fortune Theatre in 1964.
Professor Fred Alexander (left), Lady Vivien Leigh (second from right) and guests. Image by Jack Lorimer (62647P)
The Academy Award-winning actors also made a daytime visit to the University, and there to capture the excitement of the occasion on film was 23-year-old UWA student William John (Jack) Lorimer, a returned RAAF pilot who three years later graduated with a Bachelor of Science at the same ceremony as Bob Hawke, the future Prime Minister of Australia.
Sir Laurence Olivier arriving on campus. Image: Jack Lorimer (62639P)
A member of the University Dramatic Society, Jack photographed many local productions. He had a deep appreciation for drama and could quote Olivier's rendition of Henry V St Crispin's Day speech off by heart. Jack's photos of the celebrity couple's visit were taken using his beloved Carl Zeiss Contax II camera and early Kodak 35mm Panchromatic film.
Jack went on to become an exploration geologist as well as a highly proficient amateur photographer, and these and his other many images provide a wonderful historic record of Perth and regional Western Australia during his lifetime.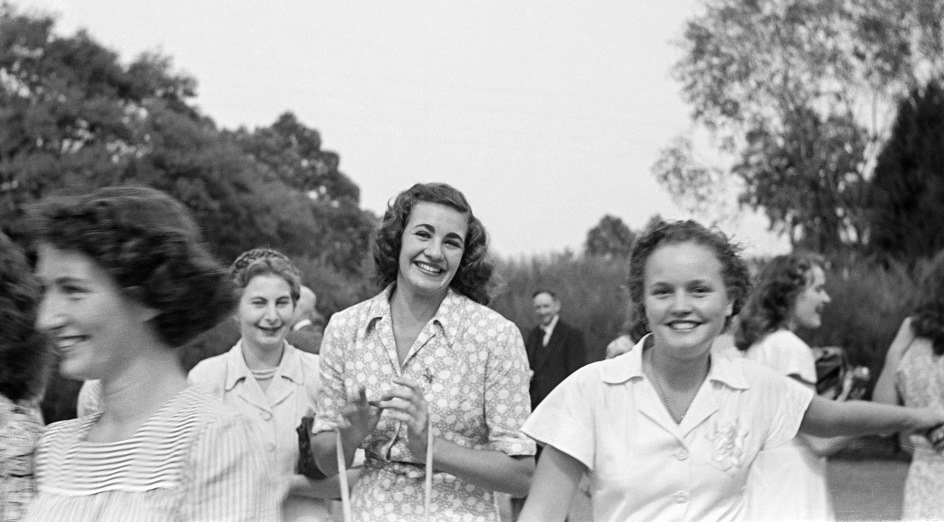 Students eager to catch a glimpse of the celebrity couple. Image: Jack Lorimer (62637P)
Among the collection are some images depicting the performances run by the University Dramatic Society, and Jack's family are meticulously digitalising the collection to bring to life some of the most memorable moments of the performances.
When Jack's daughters Angela Frodsham (BEc '86) and Erica Lorimer (BA with Hons '89) contacted UWA this year to share some of their late father's images, the University archivist Maria Carvalho was excited to hear that the missing archival pieces of the famous visit had finally made their way to the University – albeit 72 years later.
"We knew they had attended the first performance in the Sunken Garden, but there were no images of the event in the University archive pictorial collection. This is a great acquisition for the Archives as it captures a very important moment in our University history," Maria said.
"It is rumoured that it is due to comments attributed to Sir Laurence, and reported in The West Australian, that he urged further development of theatres on campus."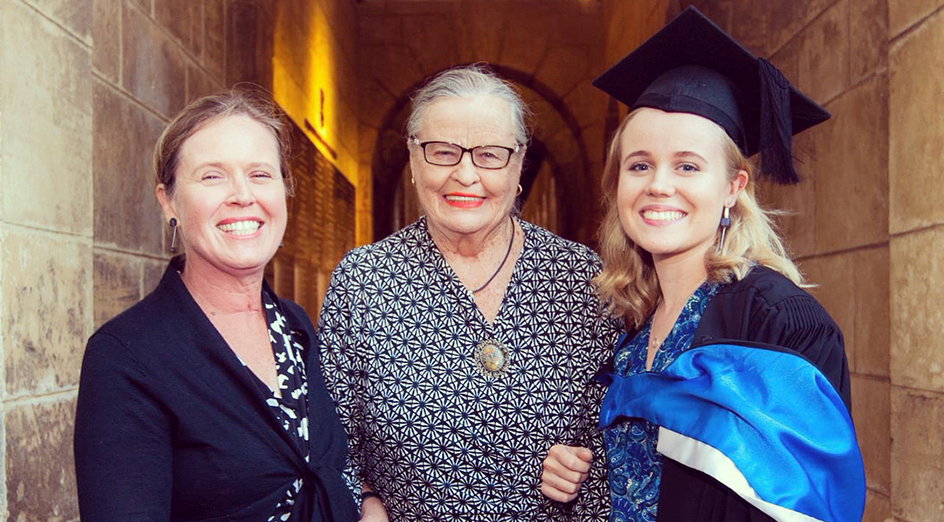 Angela Frodsham (left) with her mother Fay Lorimer (middle) and daughter Ellen (right) at a UWA graduation ceremony
When Uniview spoke to Jack's daughter Angela, she fondly recalled her family's strong ties with UWA and, together with sister Erica, is excited about sharing some of their father's iconic images.
"We come from three generations of female UWA graduates! UWA is a place very dear to our family," Angela said.
"Our mother Fay Lorimer (neé Jordan, BEd '60) is a UWA graduate and Dad was very proud that both his daughters were UWA graduates too."
Sadly, Jack did not live to see his two eldest grandchildren graduate at UWA early next year – Matthew Gagen is a third-year Architecture student and Ellen Frodsham (BA '18) will graduate with a Juris Doctor.

Oedipus Rex production – Sunken Garden 1948 (Archives 6050P)

Jack Lorimer as a young UWA Science student. Courtesy of Lorimer family.
More Jack Lorimer images can be seen online on Facebook at 'Jack's Cameras' and Instagram @camerasjack.