The University of Western Australia has welcomed a group of agriculture students from Nagoya University in Japan as part of a joint Doctor of Philosophy program in which students simultaneously enrol and complete part of their degree at both UWA and Nagoya University.
The students arrived in January 2020, before the Federal Government announced international travel restrictions in response to the COVID-19 pandemic.
UWA Deputy Vice-Chancellor (Research) Professor Timothy Colmer, who helped establish the joint PhD program, said it provided an exceptionally rich learning and research experience for both the students and their supervisors.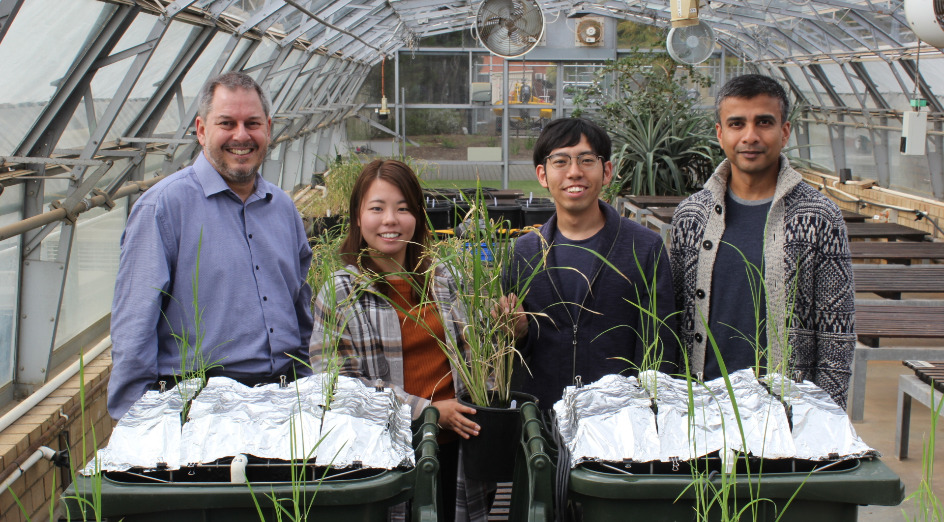 Pictured from left to right are Professor Tim Colmer, Yumika Watanabe, Tsubasa Kawai and Dr Kosala Ranathunge.
"The joint PhD degree program provides an opportunity for students and staff from both institutions to develop strong research relationships which will result in new outcomes and set up ongoing networks vital to a successful career in research," Professor Colmer said.
"The new program will further enhance collaborative research and training in areas of that are of mutual interest to UWA and Nagoya University, such as crop science, animal science, protein chemistry, biotechnology and soil science."
Two joint PhD program students who commenced their studies at Nagoya University are currently at UWA in Perth completing experiments towards their research degrees.
Mr Tsubasa Kawai from UWA's Institute of Agriculture is investigating root system architecture in rice and said the joint degree program had given him the opportunity to use a system developed at UWA for efficient root phenotyping in crops.
Ms Yumika Watanabe from UWA's School of Biological Science is also studying root systems with a focus on stress tolerance in rice. Both students first visited the UWA Institute of Agriculture as second-year masters students for eight weeks as part of the University's International Research Internship program.
Professor Colmer said the joint PhD degree program would strengthen the relationship between Australia and Japan.
"Science and education are very important for trade and industry and we have received strong support of this partnership from the Australian Embassy in Japan," Professor Colmer said.
"Australia's Ambassador to Japan, The Hon Richard Court AC, visited Nagoya University in February 2019 to discuss the joint degree program and cooperation between the two countries in science and education."
UWA and Nagoya University are currently discussing possible future research projects within the framework of the joint PhD degree program and opportunities to work with industry on selected research projects.