WA is risking COVID-19 disease flare-ups across the state if it becomes too confident too soon and responds to the recent 'flattening of the curve' by easing up on strict social distancing restrictions, warns UWA Professor Jon Watson, Executive Dean of the Faculty of Health and Medical Sciences.
"My sense is that we will need significant restrictions for about one to two months before they can start to be relaxed," Professor Watson said.
"We have already, tragically, had a number of people die in Australia and that is a terrible thing. What we have to do to honour their memory and protect all of our population is try and work with the health authorities, with researchers and with our governments to try and minimise any further damage.
"But I think zero spread and zero cases for WA is too optimistic, and the danger is that we would be isolated too long if we aimed for that aspirational target.
"We have to balance population health against economic imperatives – this is a virus that will probably remain in the community long term but could be limited to a low level only."
"I have been engaging with colleagues all over the world, and one heartening thing has been how everyone has collaborated so well and grouped together to take on this external threat."

Professor Watson
Playing a key role in advising state and federal governments on COVID-19 strategy through the Group of Eight Universities' panel of research experts, Professor Watson praised the WA Government for leading Australia with its hard border closure and regional controls, describing them as necessary moves to 'flatten the curve' when dealing with a geographical area as big as some European countries.
In doing so, WA had reduced the risk of acute hospital services becoming overwhelmed and spread out the time for infections in the community, allowing more time for treatment trials and vaccine developments.
WA's strategy, however, would not achieve herd immunity (occurring when at least 60 per cent of the population had been infected) for a long time, unlike strategies being pursued elsewhere in the world, such as Sweden.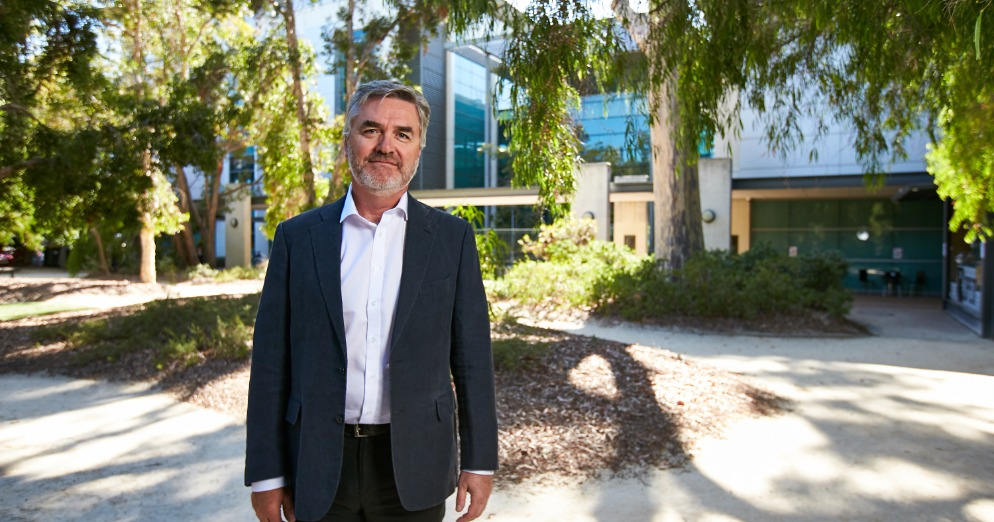 "Thus, we need to continue to be careful until successful treatments and a vaccine are developed," Professor Watson said.
"It is a very difficult decision for our political leaders. They need to balance not easing restrictions too soon with helping all of us re-enter the workforce. That is particularly important for some sectors of the economy, such as small business owners, education, hospitality and tourism.
"The Group of Eight Universities, including UWA, we are trying to help governments with this decision – trying to strike a balance between protecting as much of the population as we can from the disease but also trying to keep as much of the economy going as we can.
"We are advising the Chief Medical Officer around this, encouraging social distancing to flatten the curve because we do not yet have a readily available treatment, although some treatments are in trial, and we do not yet have a vaccine.
"I have been engaging with colleagues all over the world, and one heartening thing has been how everyone has collaborated so well and grouped together to take on this external threat.
"At UWA, we are now actively involved in treatment trials, as we have established a COVID-19 Research Response Hub in collaboration with colleagues from our major health services and other universities.
"Authorities have been very cooperative and helpful in terms of fast-tracking applications for ethics approval and approval for clinical trials.
"Scientists around the world have been very generous in sharing [information] – for example the sequence of the virus. The COVID virus was sequenced within a week or two of it first being discovered, which is an absolute record. In times past, none of that would have been shared and people would not have been so collaborative."
Professor Watson said his greatest hope was that Australia could get through this pandemic with minimal loss of life.
"My other hope is that we find an appropriate cure for this. There are treatments which are already being trialled and we are involved in those in WA. Also, that we try and find a vaccine as well – which is harder to develop.
"My greatest fear is that we have 'the storm' that WA's Premier is talking about; and that could still come, although the curves are looking good in WA and across Australia. That storm will be a whole load of people getting infected by pandemic COVID-19 at the same time.
"But if everyone gets on board with social isolation, understands that we are doing this for a reason, hopefully that storm will not happen."
Professor Watson said already many of his colleagues who had trained at UWA were being incredibly brave and working incredibly hard addressing demands created by the COVID-19 pandemic.
"It does take a lot of bravery to get up in the morning and go into the workplace and understand that you are putting yourself in a situation where potentially you could become infected by the virus, even with appropriate protective equipment.
"I am in awe of them. I applaud them for their work."
Media references
Simone Hewett (UWA Media and PR Manager)
08 6488 3229
0432 637 716