Scholarships
Undergraduate and Postgraduate Coursework
Here you'll find all the information you need on scholarships and fees relating to tuition, administration and amenities while studying at UWA.
Tell us about yourself to find scholarships for you
Citizenship

Education

Study Level

Interest areas

Personal
UWA's range of scholarships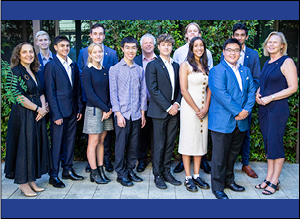 Fogarty Foundation Scholarship
The UWA Fogarty Foundation Scholarship Program is one of Australia's premier scholarship programs. It is a joint venture between the Fogarty Foundation and the University of Western Australia, investing in the future leaders of Western Australia.
---
Prestigious Scholarships
Externally-funded prestigious scholarships are some of the most powerful and respected programs offered in Australia and across the world. They are intended for you to undertake study or research at the world's top universities by showcasing your academic excellence, together with your leadership potential and desire to make an impact on communities, both in Australia and around the world.
---
Global Excellence Scholarship
This significant scholarship will be awarded to high-achieving undergraduate and postgraduate students, from selected countries, who apply for particular courses at the University.
Contact us
Email for Current Students
Contact us via AskUWA
askUWA
Email for Future Students
Contact us via AskUWA
askUWA
askUWA
Find answers to your scholarship questions anytime.
ask.uwa.edu.au
The University of Western Australia