UWA Learning Centres – China
UWA Learning Centres cater to students in China who are enrolled in any UWA undergraduate or postgraduate degree course that is available online.
Students attending a UWA Learning Centre will receive additional support including academic tutoring, peer support and a dedicated student experience program to keep them connected to the UWA community until they can join us at the Perth campus.
In Semester 1, 2022 we are pleased to continue supporting our students through the provision of Learning Centres. Through UWA's strong collaboration and partnerships with universities in China, these dedicated Learning Centres are available for students enrolled at UWA, but studying online:
UWA Study Centre @ East China University of Political Sciences and Law, Shanghai NEW
UWA Study Centre @ Soochow University, Suzhou
Students on international academic pathway (articulation) programs from select partner universities will have exclusive access to a UWA Learning Centre at the following campuses:
Southwest University, Beibei Campus, Chongqing
South China University of Technology, Guangzhou
Guangdong University of Finance and Economics, Guangzhou
Guangdong University of Finance, Guangzhou
If you are a UWA student from one of our partner universities in Guangzhou and wish to attend a Learning Support Centre at your institution's campus in Guangdong next semester, please contact acices@abgwa.com for further advice and guidance on arrangements especially for you.
Registrations for the Offshore Learning Centre at Southwest University can be submitted here
Registrations for all other UWA Learning Centres can be submitted here.
A message from the Vice-Chancellor
At The University of Western Australia, our priority is to support our students wherever they are.
I am pleased to advise that the UWA Learning Centres established in China in 2020 will continue in Semester 1, 2022 with the addition of a new Centre in Shanghai, the UWA Study Centre at East China University of Political Science and Law.
At the UWA Learning Centres you will feel a sense of belonging to the UWA community. Our Learning Centres will support you and UWA will be ready to welcome you to Perth once you can join us.
PROFESSOR AMIT CHAKMA
VICE-CHANCELLOR
THE UNIVERSITY OF WESTERN AUSTRALIA
Benefits of attending a UWA Learning Centre
Complimentary academic support
University campus experience
Student ambassador program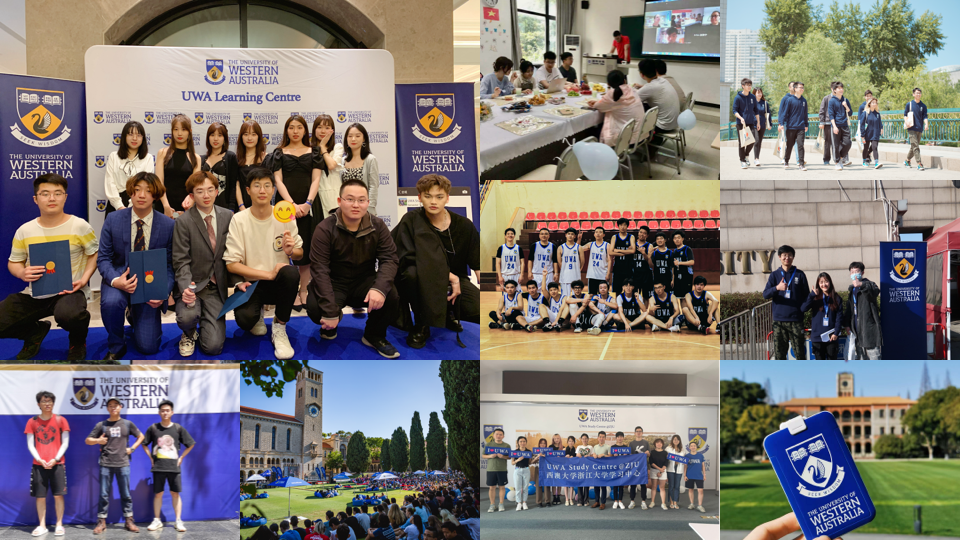 Why study at a Learning Centre
Hear from our students and staff about the online learning experience at UWA including, UWA's Student Guild President, Emma Mezger as she talks about the benefits of attending a learning centre.
Watch the video on Tencent
Which Learning Centre is right for you?
Find out more about each Learning Centre, its location and the main highlights.
UWA Study Centre @ East China University of Political Science and Law (ECUPL)

UWA is pleased to introduce its first Learning Centre in Shanghai with access to both the Songjiang and Changning campuses. Twin-share accommodation will be available in Songjiang University Town, conveniently located near many shops and restaurants. UWA students attending the UWA Study Centre @ East China University of Political Science and Law will also have the opportunity to participate in internship opportunities arranged by the University.

Download the UWA Study Centre @ ECUPL brochure

UWA Study Centre @ Soochow University (SUDA)

The UWA Study Centre @ SUDA, located on SUDA's main Tiancizhuang Campus was the first Centre established exclusively for UWA students. Access to shopping and transport is very close and accommodation costs RMB4000 per semester for twin ensuite rooms. This centre provides access to 17 dedicated classrooms for UWA students and a comprehensive student ambassador program.

Download the UWA Study Centre @ SUDA brochure

Watch a video about SUDA on Tencent

This is what some of our students have said about their experience attending the UWA Study Centre @ SUDA

Resident teachers at SUDA are dedicated and practical, conscientious and responsible, careful and rigorous. I was most impressed that on my first day they were standing at the entrance of the university to welcome us and help us with the luggage.
YUGE GU
MASTER OF PROFESSIONAL ENGINEERING

The academic support activity is an important part of the Learning Centre and it is the main reason for me coming to OLC. One of our lecturers and also our tutor, Dr Frank Liu, has come to SUDA. He was my lecturer in Semester 1, 2020 and my tutor in Semester 1, 2021. I felt lucky to have the chance to see him in person. He gave us lots of support and help in study.
YIYI HUANG
BACHELOR OF COMMERCE

UWA Offshore Learning Centre @ Southwest University (SWU)

Located on Southwest University's main Beibei Campus in Chongqing, this Learning Centre is located in very close proximity to shopping and transport facilities. Accommodation is available on-campus in twin rooms. There are two dedicated classrooms for UWA students use and a range of other shared classrooms and facilities. The OLC @ SWU is available only to UWA students enrolled in an international academic pathway (articulation) program from Southwest University, including Westa College.

Download the UWA Offshore Learning Centre @ SWU brochure

This is what some of our students have said about their experience attending the UWA OLC @ SWU

I am Heyang Zhong, a Biotechnology major and minor in Psychology. Now I am on Beibei Campus, Southwest University. Studying at UWA OLC means students are given access to three massive libraries and many study rooms at Southwest University. We can use the sports field and cafeteria. As a student who is unable to return to UWA at the moment, I can have a campus (experience) here instead. After all, it's inside the university, and the atmosphere is essential.
HEYANG ZHONG
BACHELOR OF SCIENCE

In the class BIOC 3002: Structural & Functional Biochemistry, the learning facilitators are very responsible and helped me a lot. They also taught us some extracurricular knowledge. In addition to this, other relevant professional courses are highly beneficial. In my finance class this semester, the learning facilitator of international finance gave us a lot of ideas and advice on our mid-term assignment.
YIXUAN DU
BACHELOR OF SCIENCE
FAQs
Tuition, Fees and Scholarships

Accommodation Arrangements

Enrolment and Registration

Support and Facilities
The University of Western Australia