PROJECT
Using population viability analysis to guide the recovery of Critically Endangered Pacific leatherback sea turtle subpopulations
Both the Eastern and Western Pacific subpopulations of leatherback sea turtles (Dermochelys coriacea) are Critically Endangered. This conservation status is the result of decades of historic egg harvest, ongoing bycatch from artisanal and industrial scale fisheries, and other human impacts, including vessel interactions, plastic pollution, targeted hunting, and climate change. Current conservation management actions focus on in situ interventions, such as nest protection and bycatch reduction, which aim to protect the species in their natural environments. Population viability analysis points to extinction unless bycatch can be reduced, but the feasibility of achieving bycatch reduction before extirpation occurs is uncertain, and additional management actions will be required to recover populations subject to multiple threats.
At recent meetings of more than 50 experts and stakeholders, the 2021 Eastern Pacific leatherback turtle: ex situ management recommendation development workshop, a range of ex situ management options were explored. These included movement of any life stage of the leatherback: from relocating nests to safer locations on the beach, to moving eggs into incubators to increase hatching success, and/or potentially rearing hatchlings in captivity until they reach larger sizes and are better suited to survive in the open ocean.
This PhD opportunity involves working with Upwell of California, USA on their mission to protect imperiled populations of marine turtles within their oceanic habitats. The selected candidate will support research to strengthen management decisions surrounding Pacific leatherback breeding stocks, to examine the merits of in situ and ex situ management interventions, individually and collectively. This includes continuation of population modelling, and addressing key knowledge gaps illuminated during the Ex situ management recommendation development workshop.
For additional background, see suggested readings below.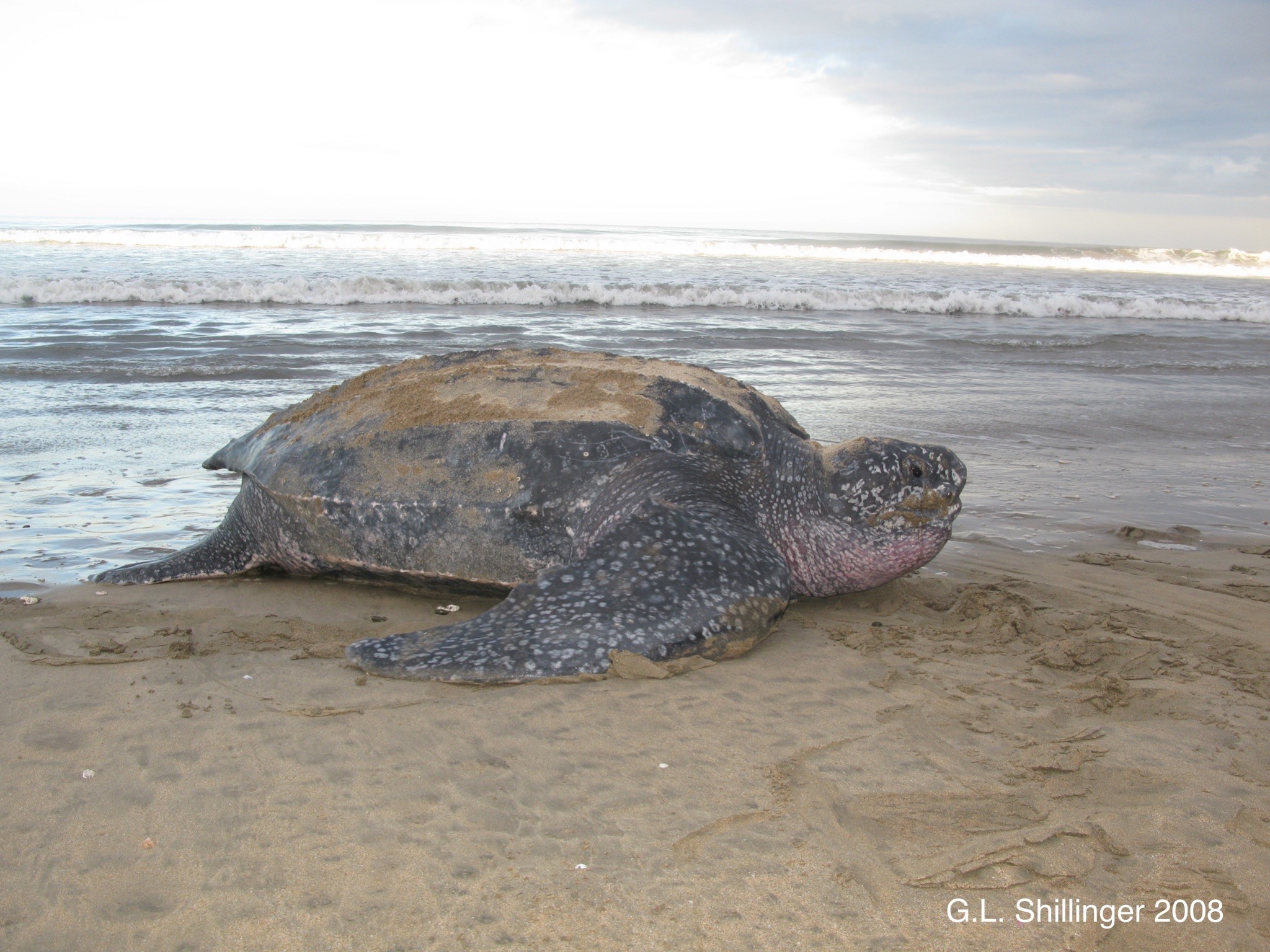 ---
Suggested readings
---
Supervisors:
Nicki's research is interdisciplinary but has a strong grounding in physiological ecology. Her current focus is to understand the capacity of threatened vertebrates to adapt to rapid environmental change, and to develop models and decision tools that can inform conservation initiatives such as assisted colonisation. She has long-term research programs on the impact of climate change on sex determination and survival in reptiles (especially sea turtles), and on the biology and conservation of terrestrial vertebrates, and how species such as amphibians will respond to drying climates.
George is a director of Upwell, and has a PhD in Marine Biology and an MS in Ecology and Evolutionary Biology from Stanford University, and an MBA from the Yale University School of Management. George develops scientific partnerships and leverages data to set conservation priorities, builds support in key constituencies and advances protections for turtles at sea. He has worked in environmental conservation since 1986, including satellite-tracking pelagic species such as sea turtles, sharks and tuna. As a Great Turtle Race co-founder, he used satellite-tracking data to raise global awareness of the plight of leatherbacks.
---
How to Apply
Check criteria
To be accepted into the Doctor of Philosophy, an applicant must demonstrate they have sufficient background experience in independent supervised research to successfully complete, and provide evidence of English language proficiency
Preferred qualities:

strong academic background in conservation biology, ecology or marine biology
experience working with PVA software such as Vortex
experience with stakeholder engagement
willingness to conduct desktop-based research
excellent communication skills
Submit enquiry to research team leader
Contact the research team leader by submitting an Expression of Interest form via the button below
After you have discussed your project with the research team leader, contact applications-grs@uwa.edu.au to proceed with your application
Scholarships
Domestic students

International students

Indigenous students

Forrest Foundation scholarships
Similar projects you may be interested in