PROJECT
Unique components of human milk
Understanding how biochemical components of human milk influence infant growth and development
Human milk is a heterogeneous fluid that contains numerous nutritional and bioactive components. In the past, we identified protein, lactose, sodium and citrate in human milk as the biomarkers for the stage of lactation as well as pathologies such as mastitis.
In addition, we have used the fat content in human milk combined with infant test weighing to establish the fullness of the lactating breast and thereby estimate the volume of milk contained within the breast. The use of milk components as biomarkers provides a non-invasive and objective measure to understand milk synthesis, milk removal and supports the exploration of the health of both the breast and milk.
Building our knowledge in this area will allow the development both diagnostic tests and evidence-based interventions that have a greater chance of improving both maternal and infant health on a global scale.
Our research group is continuously seeking to redefine and develop analytical methodologies not only to discover new components of human milk but to advance the scientific accuracy of human milk analysis.
Trace metals and synthetic contaminates in human milk
Although the majority of milk components are synthesized in the lactocyte, trace metals and synthetic contaminants are likely transferred into milk via the maternal bloodstream. These components have the potential to greatly influence the growth and development of infants.
This study is aimed at determining the levels of trace metals and synthetic contaminants in a historical cohort of milk samples collected from lactating mothers in Perth, Western Australia, over the past 10 years.
This project will explore the influences of rapid growth of the local population and dramatic changes in nutrition and lifestyle over the past 10 years on these milk components.
Human milk linguistics – decoding messages from mother to child
Human milk is an optimal nutrition for a growing infant which contains multiple bioactive components and factors that regulate infant growth and development, including appetite hormones, growth and inflammatory factors. We have limited knowledge about how these molecules relate to development of infant appetite control and lean and fat body mass (body composition), and how human milk and breastfeeding protect infants from developing obesity and obesity related health issues later in life.
This study will explore relationships of human milk bioactive components, such as insulin, glucose, leptin, active ghrelin, adiponectin, resistin, obestatin and cytokines including TNF-a and TGF-b with breastfed infants' health, growth and development of body composition over 12 months of life and beyond, using new techniques (ultrasound and bioelectrical impedance spectroscopy). Additionally, the effect of maternal factors, such as adiposity, diet, health status on human milk composition will be elucidated, to further understand the influence mother has on her growing infant during lactation period.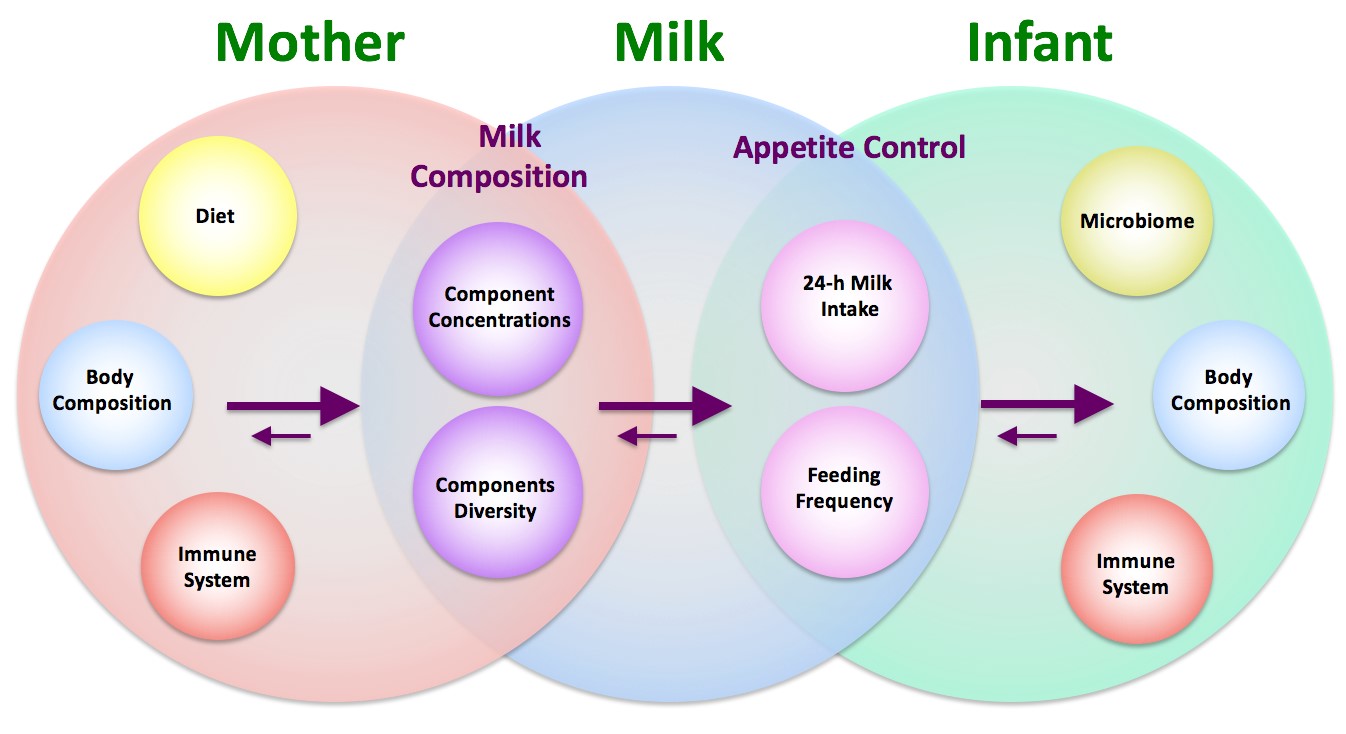 For more background information, see the suggested readings below.
Research team leader: Dr Donna Geddes
I am the Senior Research Fellow directing the Human Lactation Research Group. I have a deep interest in understanding the mechanisms by which human milk and breastfeeding confer their benefits to infants. The long-term benefits of breastfeeding (for example decreased obesity, diabetes) suggest lactation plays a major role in programming the health of infants. Increasing knowledge of this programming phenomenon allows us to develop strategies that will enhance health when lactation issues occur.
---
How to apply
Interested in becoming part of this project? Complete the following steps to submit your expression of interest:
Step 1 - Check criteria
General UWA PhD entrance requirements can be found on the Future Students website.
Step 2 - Submit enquiry to research team leader
Step 3 - Lodge application
After you have discussed your project with the research team leader, you should be in a position to proceed to the next step of the UWA application process: Lodge an application. Different application procedures apply to domestic and international students.


---
Similar projects you may be interested in