Archaeologist and activist studying forgotten worlds all around us
We need to know what we have done as a species, in order to imagine where we might be going. Dr Sven Ouzman
Dr Sven Ouzman is an archaeologist, heritage specialist and activist at UWA's School of Social Sciences.
He studies the forgotten worlds beneath our feet and all around us. He is currently working with Aboriginal partners to date and interpret the rock art of Australia's Kimberley; as well as investigating the Archaeology of Boorloo (Perth) rock art in the North Kimberley and the South African colonial circuits of knowledge and heritage. Other projects include researching African object ion Australian museums, the role of fire in heritage management, Indigenous Cultural and Intellectual Property, graffiti and homelessness.
After studying at the University of the Witwatersrand in South Africa, Dr Ouzman worked as Head of the Rock Art Department at the National Museum in Bloemfontein.
He then undertook postgraduate study the University of California, Berkeley before returning to South Africa at The University of Pretoria and thereafter was Curator of Archaeology at Iziko South African Museum. In 2013 he joined UWA's Centre for Rock Art Research + Management.
He moved to Australia to take up a position at the Centre for Rock Art Research and Management at UWA.
Qualifications:
BA, BA (Hons) - University of the Witwatersrand, South Africa
MA and PhD - UC Berkeley, California
Graduate Certificate in Tertiary Teaching, The University of Western Australia
Senior Fellow of the Higher Education Academy, 2022
Lead Chief Investigator: Kimberley Visions: Rock Art Style Provinces of North Australia, ARC Linkage Project 150100490, 2016-2022
Chief Investigator: Dating the Aboriginal Rock Art Sequence of the Kimberley in North West Australia, ARC Linkage Project 170100155, 2019-2024
Director of Learning, Teaching and Student Matters, UWA School of Social Sciences, 2020-2022
Leadership in Learning, Teaching and Student Matters (Social Sciences, UWA), 2021
UWA Guild Education Council Student's Choice Award for Teaching , 2019
UWA Faculty Citation for Outstanding Contribution to Student Learning, 2019
Projects
Kimberley Visions: rock art style provinces of North Australia
Kimberley Visions is a University of Western Australia research project working to connect different art periods and map Australia's earliest human footfall across the northern landscape.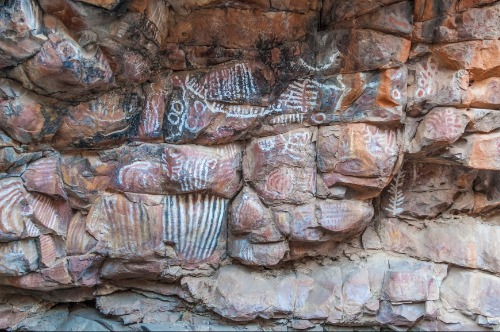 Dating the aboriginal rock art sequence of the Kimberley in North West Australia
This project aims to develop a robust time scale for the known aboriginal rock art sequence in the Kimberley, Western Australia. The project will use new knowledge of complex processes on sandstone surfaces across the north Kimberley, and an innovative combination of four scientific dating methods developed through earlier work.
Centre for Rock Art Research + Management
The Centre for Rock Art Research + Management is committed to continuing research on projects within The University of Western Australia as well as in collaboration with national and international universities. Western Australia features some of Australia's most spectacular rock art galleries.
Few landscapes offer as much tangible evidence of human history as the Pilbara, Kimberley and Western Desert regions. This situation presents archaeologists and rock art researchers with an extraordinary opportunity to learn more about the rich visual histories associated with rock art.
Teaching
I like teaching that flows directly to hands-on hard and soft skills. Seminars where everyone participates and where students push boundaries and give me a hard time, and teach me things. Dr Sven Ouzman
Supervisor opportunities
Dr Sven Ouzman has been supervising PhD students for 10 years, covering topics such as heritage and museums, landscape archaeology, rock art and stone tools.
He welcomes expressions of interest via email from prospective postgraduate students interested in:
contemporary archaeology
heritage law and management
rock art
museums
archaeological theory
politics
Contact Dr Sven Ouzman
Research repository
Read more about Dr Ouzman
Read more