PROFILE
Winthrop Professor David Badcock
Global expert in visual performance and vision science
Vision science draws from many disciplines and that gives it a breadth of input and application that is both challenging and stimulating. In research, the thrill of discovery is addictive. Helping our excellent students to develop the same enthusiasm and to see their careers flourish has been the greatest reward for me.
Winthrop Professor David Badcock
Winthrop Professor David Badcock is a recognised leader in behavioural and cognitive neuroscience, specialising in how people see and how visual performance can indicate changes in brain function. He is also Director of the Human Vision Laboratory at UWA.
Inspired through his undergraduate psychology training and his subsequent study as a Rhodes Scholar in Experimental Psychology at Oxford University, Winthrop Professor Badcock's research focuses on basic visual processes and disorders of visual processing. His work aims to understand vision, to allow for optimal design of the environment and to create subtle tests to detect disorders.
Winthrop Professor Badcock and his team are investigating how normal vision determines the shape of objects, the motion properties of those objects, self-motion of the observer and the factors limiting optimal performance. In parallel they are investigating the changes in visual performance in people with migraines, glaucoma, autism and schizotypy.
External positions:
Psychology Foundation of Australia – President
National Committee for Brain and Mind Sciences (Australian Academy of Science) Chair
Australasian Society for Experimental Psychology – Registered Public Officer and permanent committee member
Scientific Advisory Committee of the Ralph and Patricia Sarich Neuroscience Research Institute (SNRI)
Honorary Professor of Vision Science, The University of Nottingham
Qualifications:
ARC Australian Professorial Fellow, 2011-2016
Fellow of the Association for Psychological Science, 2013
Inaugural Vice-Chancellor's Senior Research Award (Medical and Health Sciences), 2014
Fellow of the Australian Psychological Society, 1994
Fellow of the Academy of Social Sciences of Australia, 2002
Funding
---
2016-2018
Australian Research Council
'Coding of Shape in Human Vision'
---
2015-2018
National Health and Medical Research Council
'Cortical excitation in migraine: using vision to understand and track brain excitability'
---
2013-2015
Australian Research Council
Supervisor opportunities
Winthrop Professor Badcock is keen to talk to interested students in his field of research, with opportunities for PhD supervision available. Broad themes of previous supervision include:
human visual motion processing
human coding of shape and the role of pattern information in motion processing
how visual processing is shaped by visual experience
the long-term visual consequences of migraine headaches
grouping processes in human perception and their differences in autism and schizotypy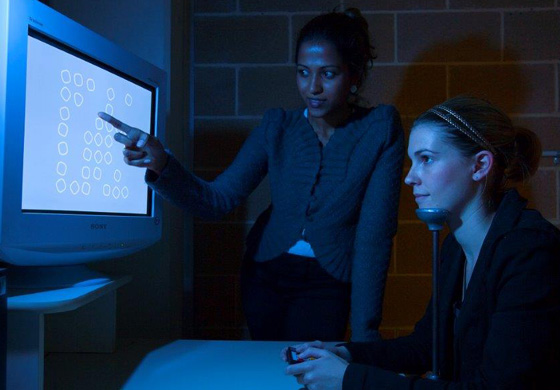 Contact Winthrop Professor David Badcock