What is CoP?
The term Communities of Practice (CoP) was coined by Lave and Wenger (1991). CoP are formed when people collaborate with a common passion, share, and develop knowledge through regular interaction. CoP have been widely recognised in promoting social learning, leadership development, and in bringing about changes to an organisation.
UWA CoP
As part of the Teaching Excellence Initiatives, the office of the Deputy Vice Chancellor of Education (DVCE) has supported academic and professional staff to develop their Communities of Practice (CoP) for innovation and best practice in Higher Education. This initiative was established by the Educational Enhancement Unit (EEU) in October 2018 and successfully funded 15 cross faculty CoP.
Benefits of CoP participation
Following on from the establishment of the CoP, the EEU undertook a survey in July 2019 of the leads and their participants, to help identify the benefits gained from their participation in a CoP. The results were separated into the following four key areas;
Social Capital

Ability to network and collaborate
Increase opportunities to network within and outside of UWA
Capitalising on networks and information for opportunities
Collaborate to produce innovative solutions

Social Learning

Ability to harness collective knowledge
Engage in sharing and understanding best practice
Ability to witness skills applied by others in different areas
Engaging and exchanging ideas with like minded people

Resources

Acquire knowledge on resources available at UWA
Gain access to available resources
Create and facilitate sharing of resources for practical implications
Ability to gain more insights at UWA

Professional and Personal Development

Platform to share work accomplished
Gain reassurance and validation from colleagues
Understand personal identity at UWA
Developing facilitation and leadership skills
How do I establish a CoP at UWA?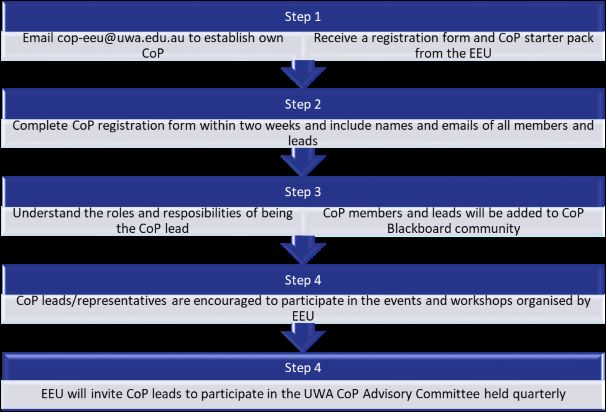 How to join an existing UWA CoP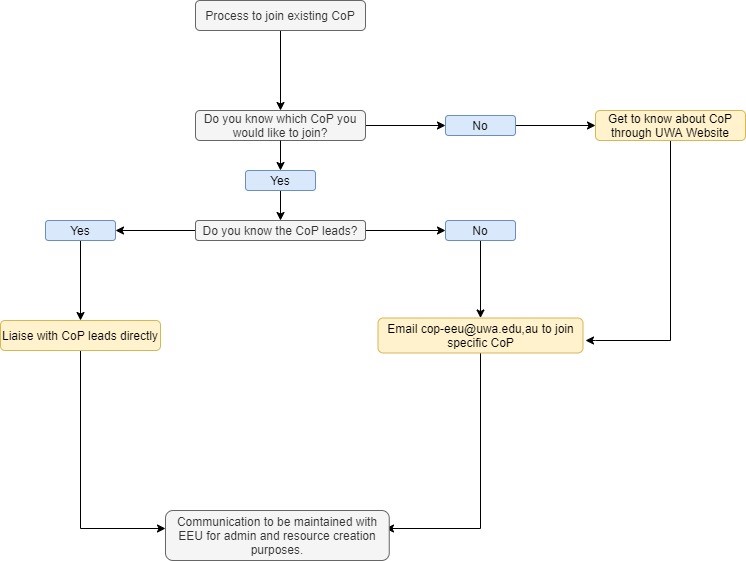 Further Information on UWA CoP
Refer below for further details on the current UWA CoP, the support and resources provided by the Educational Enhancement Unit and formalising the CoP to ensure their sustainability at UWA.