What is CoP?
The term Communities of Practice (CoP) was coined by Lave and Wenger (1991). CoP are formed when people collaborate with a common passion, share, and develop knowledge through regular interaction. CoP have been widely recognised in promoting social learning, leadership development, and in bringing about changes to an organisation.
UWA CoP
As part of the Teaching Excellence Initiatives, the office of the Deputy Vice Chancellor of Education (DVCE) has supported academic and professional staff to develop their Communities of Practice (CoP) for innovation and best practice in Higher Education. This initiative was established by the Educational Enhancement Unit (EEU) in October 2018 and successfully funded 15 cross faculty CoP.
Benefits of CoP participation
Following on from the establishment of the CoP, the EEU undertook a survey in July 2019 of the leads and their participants, to help identify the benefits gained from their participation in a CoP. The results were separated into the following four key areas;
Social Capital

Ability to network and collaborate
Increase opportunities to network within and outside of UWA
Capitalising on networks and information for opportunities
Collaborate to produce innovative solutions

Social Learning

Ability to harness collective knowledge
Engage in sharing and understanding best practice
Ability to witness skills applied by others in different areas
Engaging and exchanging ideas with like minded people

Resources

Acquire knowledge on resources available at UWA
Gain access to available resources
Create and facilitate sharing of resources for practical implications
Ability to gain more insights at UWA

Professional and Personal Development

Platform to share work accomplished
Gain reassurance and validation from colleagues
Understand personal identity at UWA
Developing facilitation and leadership skills
How do I establish a CoP at UWA?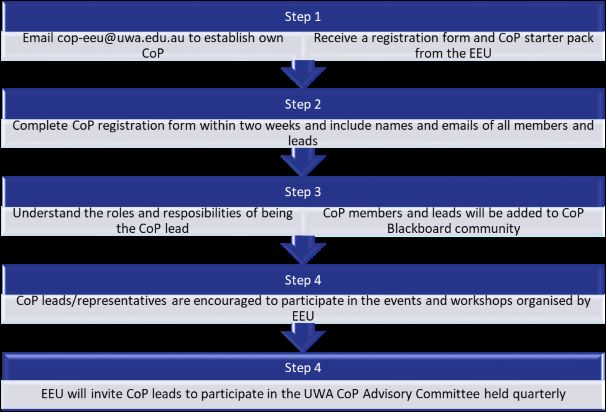 How to join an existing UWA CoP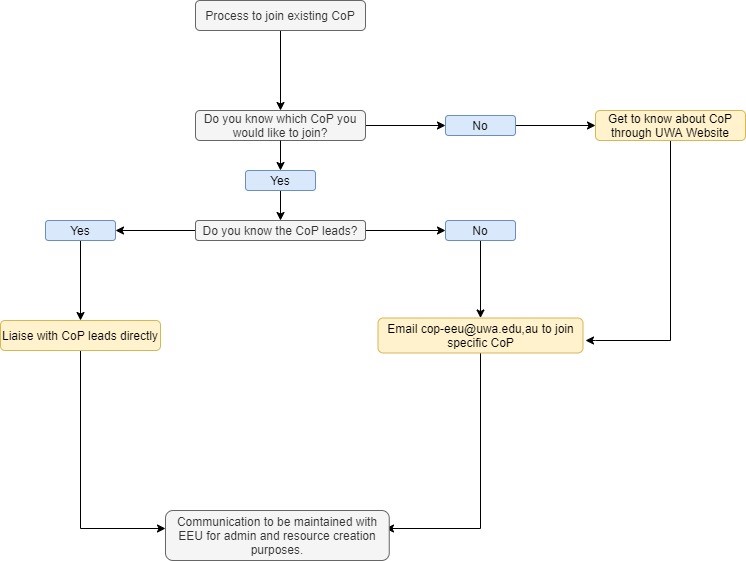 Further Information on UWA CoP
Refer below for further details on the current UWA CoP, the support and resources provided by the Educational Enhancement Unit and formalising the CoP to ensure their sustainability at UWA.
List of CoP

UWA Communities of Practice

CoP Title

CoP descriptor

CoP lead

Areas represented

Innovations in Teaching and Learning: Agility in Responding to Change
Showcasing highlights, lowlights, exploring developments and evaluating trends across faculty examples/experiences of cutting-edge pedagogy
Professor Alexandra Ludewig
School of Humanities
Active Learning and the flipped classroom
Facilitate discussion and uptake of flipped classroom
Assistant Professor Kate Offer & Associate Professor Martin Forsey
Law & School of Social Sciences
Developing Technological Leaders
Exploring tools, inspiration and facilitating discussion around developing our students as technology leaders for the future
Mr Santiago Perez &

Professor Thomas Bräunl

School of Engineering &

School of

Electrical, Electronic and Computer Engineering

Scaffolding and assessment of student teamwork skills
Build a campus wide network to share experiences in teamwork assessment and develop common goals/ framework in which to work/assess
Professor Phil Hancock
Business School
Student Employability including Work Integrated Learning
Explore best practice in embedding employability into the curriculum and how online modules and other activities can help students improve their employability skills
Dr Dino Spagnoli
School of Molecular Sciences & Science
UWA's School and Community Engagement across Western Australia
Bringing together the vast number of functions of the University that partake in school and community engagement activities - information sharing
Ms Tara Broadhurst & Ms Katie Douglas
Student Experience, Central SDC,EMS SDC &

Brand, Marketing & Recruitment

Using the lens of Family and Domestic Violence to explore complex social problems to promote interdisciplinary student learning and social justice
Exploring interdisciplinary and innovative approaches to complex problems and policy advocacy
Professor Sandra Thompson , Associate Professor Stella Tarrant & Ms Heath Greville
Population & Global Health, WACRH,FMHS & LAW
Embedding Research Skills as part of Curriculum Design across Units and Course programs at UWA.
Exploring frameworks and sharing experiences in embedding research skills within the UWA curriculum
Ms Lucia Ravi
Library
Virtual school of Data Science
Bringing together people who use data in new ways, or want to, with educators, researchers and students with some expertise in the foundations of modern Data Science: the collection, data management, storage, data-mining, statistics, machine learning and AI
Professor Inge Koch and Associate Professor Mark Reynolds
Physics, Molecular Sciences, ICRAR, Medical & Engineering
Celebrating and Supporting Women in Science
Nurture, support, develop and retain talented women in the sciences across the university, building a CoP which focuses on cross-disciplinary learning and connectivity across the university, leveraging our knowledge and facilitating innovation
Dr Kimberley Wang, Dr Lucy Furfaro & Dr Belinda Guo
Human Sciences, Biomedical Sciences, Agricultural Sciences & Social Sciences
Transforming the design and delivery of laboratory-based education at UWA (Laboratory Modules)
How a unit re-design has been developed to transform how laboratory-based education is taught, and to broaden the reach of UWA's teaching and research
Dr Peter Arthur, Associate Professor Philip Burcham & Dr Alyssa van Dreumel
School of Molecular Siences, School Biomedical Sciences & Pharmacology
Assessment and Feedback: Peers Learning together
To support early career and mid-career academics in developing and implementing innovative and educationally valid and reliable assessment tools and feedback strategies which are efficient and effective
Dr Hanh Ngo & Mrs Marilyn Bacus
Medical School and Service Delivery Centre
Application of eye-tracking technology in learning and teaching
Employ eye-tracking camera technology to ascertain the students visual search patterns and fixations while viewing teaching material
Associate Professor Robert Anthonappa & Irene Lee
School of Dentistry & Educational Enhancement Unit
Tool of the Week (Toolies)
The Biomedical Sciences Education CoP is an organically formed group of teaching academics, learning designers, academic services and scientific officers. The CoP meets informally and semi-regularly at the UWA Health Campus for: (1) peer-led professional development (PD); (2) expert-led PD; and (3) journal clubs to promote the scholarship of teaching and learning (SoTL). The CoP is also supported by a live chat in MS Teams and a SharePoint resource repository (Toolbox).
Dr Demelza Ireland
School of Biomedical Sciences
Business Learning and Teaching ( the "BLTs")
Business education covers a wide variety of subdisciplines, all requiring a diverse range of skills, knowledge and pedagogical practices. The Business Learning and Teaching CoP is designed to bring together these disparate elements within a single cohesive framework to enhance the delivery of learning and teaching in the knowledge area of Management and Commerce.
Dr Andrew Williams
Business
UWA Academy Fellowship Scheme
Sharing of teaching and support of learning knowledge and expertise across the university. CoP will also assist AFS Mentors and Assessors support each other and the HEA candidates through the application process.
Associate Professor Bonnie Thomas
School of Humanities

SPARK (Skills, Pedagogical Approaches, Resources and Knowledge) for University Learning and Teaching Community of Practice

The SPARK CoP comprises SPARK alumni (i.e. PhD students interested in developing their teaching skills, tutors ,demonstrators and facilitators at UWA). The CoP will provide SPARK alumni an opportunity to improve their teaching through reciprocal teaching observations in peer learning circles (i.e. in pairs within and across their schools), collegial dialogue, and self-reflection.

Dr Mary Lynn De Silva
Educational Enhancement Unit
UWA Climate Change Community of Practice
To link UWA's experts and expertise in climate-related research, teaching and operations, with the goal of strengthening what we do in these areas and having a greater impact on our communities.
Mr David Norman
Vice-Chancellery
Evaluating your Teaching
Providing an opportunity for staff to share their experiences and expertise when evaluating their teaching. Our primary intention is to provide support to staff considering Award submissions, promotions, and applications for the AFS, although this CoP will also be of interest to anyone who would like to improve the ways in which they evaluate their teaching.
Associate Professor Grace Oakley and Ms Rebecca Stuart-Coombe
Graduate School of Education & Educational Enhancement Unit
IaH@UWA CoP
The Internationalisation at Home (IaH) CoP encourages individuals within UWA and our local communities to share ideas, experiences and support each other, ensuring that research and practice contribute to inculcating international competencies in all students. IaH touches upon everything – from the academic curriculum to the interactions between local students and international students and our staff, to the cultivation of internationally-focused research topics, to innovative uses for digital technology. Most importantly, it focuses on all students reaping the benefits of international higher education, not just those who are mobile.
Ms. Milly Ingate, Dr Mary Lynn De Silva & Dr Alyssa Van Dreumel
Global Engagement Office, Educational Enhancement Unit & School of Molecular Sciences
UDL-IDEA@UWA
The UDL-IDEA@UWA CoP is a budding community of practitioners who embrace the emerging concepts of Inclusivity, Diversity, Equity and Accessibility (IDEA) all under the same canopy of Universal Design for Learning. We hope that through this CoP, practical strategies relating to the IDEA would be given more awareness and thought in order for them to be implemented practically in the classroom.
Irene Lee , Dr Mary Lynn De Silva , Debbie Jordan & Dr Ashleigh Prosser
Educational Enhancement Unit
UWA Equity and Inclusion Network
This E&I CoP will:
a)

Provide a platform to discuss issues related to Diversity, Equity, and Inclusion (DEI) at the UWA grassroots level, raise concerns and make recommendations, where relevant, to the PVC (D&I) or relevant I&D Working Group chairs;
b)

Serve as a support network for members, to learn together, share ideas, and promote a deeper understanding of equity and best practices at Higher Education Institutions;
c)

Create a channel to communicate I&D initiatives from Central university level to staff in Schools / Departments / Centres.
Associate Professor and PVC (Diversity & Inclusivity) Marit E. Kragt
Associate Professor and PVC (Diversity & Inclusivity)

Responsibilities of leads and members

Responsibilities of leads and members in UWA CoP

CoP are widely known to benefit individuals, community, and organisations. In CoP, experiences such as satisfaction in learning, job performances, best practices are shared and practiced across an organisation. Therefore, CoP leads and members are vital in achieving these outcomes.

UWA CoP Lead

CoP leads will be required to share their passion, knowledge, and develop their expertise in their shared domain; maintain communication with the EEU and their members; attend and facilitate their CoP. They are also highly encouraged to actively participate in the events organised by EEU such as the UWA CoP Advisory Committee

UWA CoP Members

CoP members are to share their passion, knowledge, and develop their expertise in their shared domain; maintain communication with their CoP leads and other members; attend and actively contribute to discussions. They should also commit to sharing their knowledge and skills that are developed with peers in their work areas. Moreover, members are encouraged to participate in the events and workshops organised by their leads and the EEU.

EEU Resources to Support UWA CoP

The Educational Enhancement Unit resources available to support UWA CoP

CoP Networking sessions

CoP networking sessions are organised bi-annually through online and/or offline means to enable leads and members to expand their social network. These networking sessions will facilitate the creation of a new CoP and increase the membership of the existing CoP. Moreover, for some sessions, experts will be invited to weigh in and share CoP insights. Workshops to develop necessary skills may be held in conjunction with these networking sessions.

The World Café session

The EEU will organise a world café session for its CoP members and leads. The invitation to this event will also be extended to its stakeholders and will be held towards the end of the year. The intention behind this initiative is three-fold: to increase social network and pave ways for more collaboration, to highlight CoP contributions to UWA and, to assist in growing and maintaining CoP memberships.

Other Resources

Relevant articles and LinkedIn Learning pathways
Targeted events/workshops to assist leads in facilitating their CoP
Networking sessions to expand the social capital of CoP leads and members
Administrative documents (i.e. registration of CoP form, resource request document)
Gain potential access to UWA interns
CoP guidebook that includes a framework on sustaining CoP
Template required to disseminate CoP events via the Intranet
Located in Sharepoint

UWA CoP Advisory Committee

UWA CoP Advisory Committee

The UWA CoP Advisory Committee was created in response to feedback requesting a formal way to advise and report on good practices on learning and teaching related matters, with a view to their adoption by the governing bodies of UWA. This committee is expected to provide support for the sustainability of the CoP initiative and be a platform to share CoP experiences, best practice and projects.

The role of the UWA CoP Advisory Committee is to advise the Deputy Vice-Chancellor (Education) on CoP initiatives relating to learning and teaching matters for consideration and where relevant, for adoption by the University.

Embedding UWA CoP initiatives into governing bodies

The UWA CoP Advisory Committee will consist of a Chair, Executive Officer, and CoP representatives as members. The committee will inform its findings to the DVC (E) each quarter. The EEU will engage with the Committee Chair to develop a set of guidelines for CoP initiatives which must meet the following criteria for consideration:

• Initiatives that have the potential to be applied beyond one school/faculty
• Multi-disciplinary
• Initiatives must be scaleable

The process through which CoP initiatives are considered and progressed is outlined in the figure below. The individual CoP will present their recommendations and initiatives to the UWA CoP Advisory Committee. Where the initiatives have met the agreed guidelines, the Committee will decide on which initiatives should be recommended to the DVC (E). If appropriate, the Committee will relay information back to the CoP for further action. CoP initiatives that do not meet the guidelines may disseminate them after liaising with their respective Associate Deans of Learning and Teaching (ADLT).

The role of EEU and UWA CoP Advisory Committee

The EEU will continue to play a supporting role for CoP and the advisory committee. Based on feedback and recommendations from the advisory committee, relevant changes to the program that can be enacted by EEU will be considered.