PROFILE
Professor Emerita Vera Morgan
Head of the Neuropsychiatric Epidemiology Research Unit undertaking research to better understand severe mental illness such as schizophrenia and other psychotic disorders
Over the decades, we have moved away from a sense of hopelessness about outcome in schizophrenia towards embracing personal recovery, a concept coming from people with lived experience themselves that captures "a way of living a satisfying, hopeful, and contributing life even with limitations caused by illness. (Anthony, 1993)Professor Vera Morgan
Professor Vera Morgan is:
Head of the Neuropsychiatric Epidemiology Research Unit in The University of Western Australia School of Population and Global Health

Director of the Centre for Clinical Research in Neuropsychiatry in The University of Western Australia Division of Psychiatry
Operational Epidemiologist at North Metropolitan Health Service Mental Health

Adjunct Professor, Menzies Institute for Medical Research, University of Tasmania
She is a psychiatric epidemiologist with a special interest in studying schizophrenia and other psychotic disorders utilising cohort-based record-linkage designs and clinical/survey data collections.
She takes a cross-disciplinary epidemiological approach to the study of psychotic illness that melds psychiatric, genetic, physical health, sociological and criminological perspectives on aetiology and course to help unravel the complex nature of these disorders and improve outcomes for affected people.
Her current program of research focuses on:
environmental and genetic contributions to the risk of schizophrenia across the developmental life course
poor physical health, including metabolic syndrome and cardiovascular disease, and increased risk of mortality in people with psychotic illness
course and outcome in severe mental illness, including the concept of recovery

She has a very strong national presence and international profile as a psychiatric epidemiologist. She was National Project Director and Convenor of the Technical Advisory Group for the Australian Government 2nd National psychosis survey (Survey of High Impact Psychosis—SHIP) and is convenor of the SHIP Study Group.

Selected professional roles include:
Chair, NHMRC Practitioner Fellowships Peer Review Panel 2018

Member, University of Western Australia Senate 2005-2010

Vice-President, Australasian Epidemiological Association 2004-2006

Chair, Research Committee, Mental Health Council of Australia 2003-2006

President, Australasian Society for Psychiatric Research 2003-2006
Projects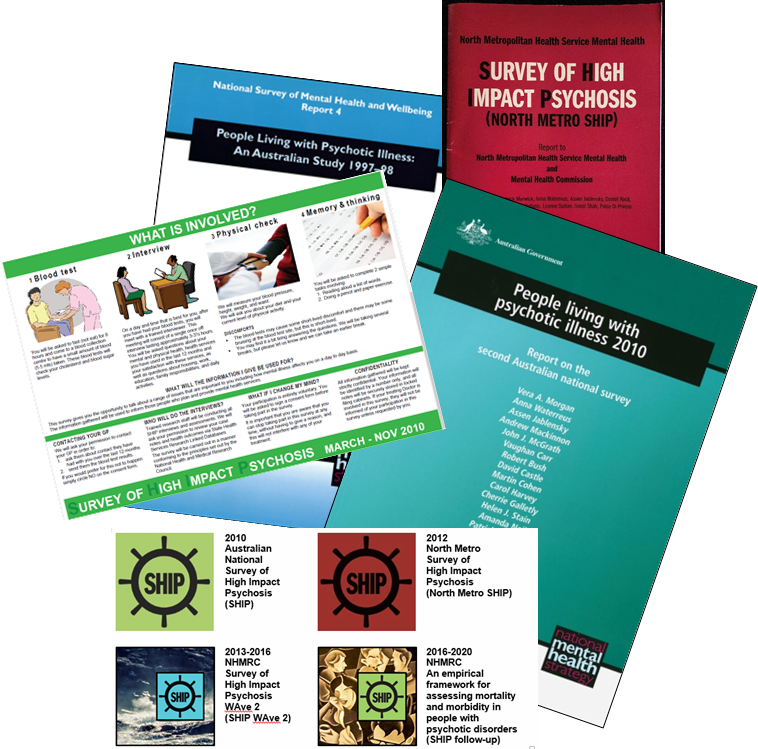 NERU is the lead Australian site for National surveys on the prevalence and profile of psychotic disorders and related clinical follow-up studies on the mental and physical health of study participants and their social circumstances.


NERU is following up a large cohort of half a million children born in WA using record-linked data from WA health and social services registers to examine genetic and environment risk along their developmental life course for psychotic illness and other neuropsychiatric outcomes.


NERU has developed/maintains a number of clinical research tools (Diagnostic Interview for Psychosis—DIP; Psychosis Screener; Brief Cognitive Assessment Tool), online and face-to-face courses (Conducting research with people who experience psychotic disorders or severe mental health illnesses; DIP) and computer algorithms (McNeil-Sjöström Obstetric Complications Scale; Adversity Scale).
Funding
2020-2021 University of Western Australia Research Income Growth Grant 2019. Scoping meeting for a third National Psychosis Survey. Chief investigators: VA Morgan, A Waterreus
2019-2021 Raine Cockell Research Collaboration Award 2019. Why is the impact of urban birth on risk for schizophrenia reversed in Western Australia compared to Denmark? A proof-of-concept collaboration utilising both sites' record-linkage capabilities. Chief investigator: VA Morgan
2019-2020 UWA Research Collaboration Award 2018. Physical health and health service utilisation of children of mothers with severe mental illness: a proof-of-concept three-country collaboration. Chief investigators: VA Morgan, A Jablensky, K Abel (University of Manchester, UK), C Dalman (Karolinska Institutet, Sweden)
2016-2020 NHMRC Project Grant: An empirical framework for assessing mortality and morbidity in people with psychotic illness: 7-year follow-up and 10-year retrospective analysis of 2075 Survey of High Impact Psychosis (SHIP) participants using linked mortality and health registers. Chief Investigators: VA Morgan, J McGrath, C Galletly, C Harvey, D Castle, M Cohen, A Jablensky, V Carr, A Neil, A Waterreus.
2015-2020 NHMRC Project Grant: Impact of social adversity on the developmental trajectory to mental illness: A study of a whole-population cohort of children at familial high-risk for psychotic disorders. Chief Investigators: VA Morgan, A Jablensky, T McNeil, J Bjork.
2014-2016 NHMRC Project Grant: Schizophrenia under the genomic lens: next generation sequencing of Western Australian families with schizophrenia. Chief Investigators: A Jablensky, E Moses, N McCarthy, P Melton, M Dragovic, VA Morgan, J Badcock, F Waters.
2013-2017 NHMRC Project Grant. Overcoming barriers to improved physical health in people with severe mental illness. Chief Investigators: VA Morgan, A Jablensky, G Watts, J Badcock, K Cox, N Stefanis.
2012-2014 NHMRC Partnership Grant. The Australian perinatal mental health reforms: using population data to evaluate their impact on service utilisation and related cost-effectiveness. Chief Investigators: M-P Austin, E Sullivan, N Highet, VA Morgan, C Mihalopoulos, M Croft, G Chambers
2011-2013 WA Department of Health/WA Mental Health Commission. Contract to undertake the North Metropolitan Survey of High Impact Psychosis. Chief investigator: VA Morgan
2007-2011 Australian Government Dept of Health and Ageing contract. National survey of high impact psychosis (SHIP). Chief investigators: VA Morgan, A Jablensky