PROFILE
Associate Professor Carmela Pestell
Nationally recognised clinician and leading researcher
I am passionate about teaching psychology as it provides the opportunity for imparting the clinical wisdom I have acquired over the past two decades. I am committed to an evidence-based approach that bridges the gap between theory and practice, and clinical research projects that have real world implications. Associate Professor Carmela Pestell
associate chair, academic board uwa
Associate Professor Carmela Pestell is a clinician, teacher and researcher who has worked as a clinical psychologist and neuropsychologist for more than 24 years. Her career commenced as a clinician in Child and Adolescent Mental Health Services (CAMHS) as well as at Royal Perth Rehabilitation Hospital before holding several positions at manager and director level within the State's health system, including being the Director of the state-wide Neurosciences Unit (Health Department of WA) for 14 years (1996-2010). She also completed a secondment at the Complex Attention and Hyperactivity Disorders Service (CAHDS) as the manager for 18 months, from 2010.
As the current Co-Director for the Robin Winkler Clinic, she coordinates postgraduate trainees and clinical research activities. Associate Professor Pestell's experience as a clinician has led to her current research interests in Foetal Alcohol Spectrum Disorder (FASD), Attention Deficit Hyperactivity Disorder, brain injury and concussion.
As a leading researcher into FASD, her work has taken her to clinics in remote locations of Western Australia and the Northern Territory in collaboration with Dr James Fitzpatrick, Paediatrician and recent former Head of FASD Research team at Telethon Kids Institute. Regional travel has allowed Associate Professor Pestell to train medical and allied health staff on FASD diagnosis. The work helped establish research collaborations which have resulted in the development of a Graduate Certificate in FASD Diagnosis and Assessment to be offered at UWA from 2019.
Associate Professor Pestell has presented more than 300 invited talks on national and international stages, and was invited to give expert testimony for the Royal Commission into the Protection and Detention of Children in the Northern Territory, and the Coronial Inquest into the deaths of 13 Aboriginal young people in the Kimberley.
External positions:
Adjunct (Honorary) Associate Professor with Curtin University
Fellow of the College of Clinical Neuropsychologists and committee member
Member of Department of Health Neurosciences Unit Research Committee
Member of the Australian Paediatric Neuropsychology Research Network
Qualifications:
BPsych (UWA)
MPsych (Clinical Psychology) (UWA)
MPsych (Neuropsychology) (UWA)
DPsych (Clinical Psychology) (Murdoch University)
2017 UWA Community Engagement Award within the School of Psychological Science
2018 Community Service (Regional Achievement and Community Award)
2019 Award for Programs that Enhance Learning
Awarded 10 research grants totalling $10M+ including two NHMRC grants
Invited Ambassador for NOFASD Australia, the national consumer organisation for FASD
Funding
---
2018-2019
Neurotrauma Research Grant
'A validation study to predict poor outcomes following mild traumatic brain injury'
Fitzgerald, M., Fatovich, D., Pestell, C., Bynevelt, M., Licari, M., Robinson, S, & Xu D.
---
2017-2020
PATCHES Paediatrics, The University of Western Australia
'Fetal alcohol spectrum disorder (FASD) diagnostic services and models of care grant opportunity'

Dr James Fitzpatrick and Associate Professor Carmela Pestell
---
2014-2018
Telethon Kids Institute, The University of Western Australia
'Improving the management of youth with fetal alcohol spectrum disorder in the justice system'

C. Bower, Dr Ross Marriott, R. Watkins, Dr Raewyn Mutch, Associate Professor Carmela Pestell, Professor Stephen Zubrick and Dr James Fitzpatrick
---
2012-2017
The University of Western Australia
'Does manipulation of arterial shear stress enhance cerebrovascular function and cognition in the aging brain'

Winthrop Professor Daniel Green, Professor Nicola Lautenschlager, Dr Kay Cox, Professor Jo Badcock and Associate Professor Carmela Pestell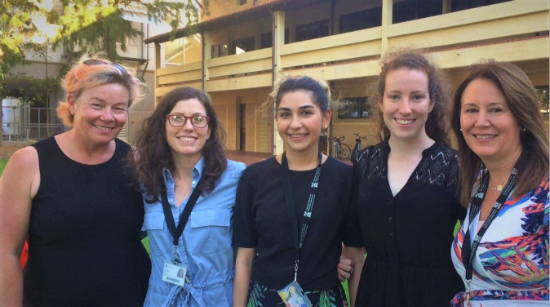 Supervisor opportunities
Associate Professor Pestell is a co-supervisor for PhD and honours students on a range of research topics related to FASD, ADHD, concussion, brain injury and cognitive interventions.
Supervision opportunities are available in her research areas of strength: FASD, ADHD, brain injury and concussion. The selection process involves shortlisting and an interview, with one to two PhD students taken each year.
Domestic students
Email Associate Professor Pestell with a recent transcript, a CV and brief statement of approximately 100 words outlining what kind of research question you are interested in pursuing.
International applicants
Complete an online form
Contact Associate Professor Carmela Pestell
Location
Find us on campus
Map