PROFILE
Dr Beatrice Tucker
Creating quality improvement frameworks to improve teaching and learning for a positive student experience
Course evaluation, monitoring and quality improvement frameworks will ultimately improve the quality of our graduates so they can positively contribute and make a difference in society.Dr beatrice tucker
Dr Beatrice Tucker is the Evaluation Lead for UWA's Medical School. She is responsible for the design, development, implementation and administration of an evaluation framework.

Dr Tucker was previously Manager, Evaluation and Academic Standards, at Curtin University and was integral to the development, validation, implementation and evaluation of two evaluation systems. She also developed and implemented a university-wide Quality Framework for Excellence in Learning and Teaching for the purpose of monitoring and improving all aspects of teaching, learning and the student experience aligned with Higher Education Standards.

In her role as Director, Curtin Learning Institute, she developed and embedded Teaching Excellence at Curtin (a framework outlining criteria and standards for academics), provided leadership for learning and teaching, and was responsible for professional learning for staff, the Scholarship of Teaching and Learning, Learning Spaces and the educational guidance and support at all levels for academic staff at the university.
Externally to UWA, Dr Tucker is on the Physiotherapy Course Accreditation and Physiotherapy Assessment Committees with the Australian Physiotherapy Council, and is Deputy Chair of the Academic Board at Stanley College, Perth.

Dr Tucker is also a physiotherapist with specialist skills and knowledge in educational quality, accreditation and cardiopulmonary physiotherapy science. Her research publication areas include the evaluation of teaching and learning, university teaching excellence criteria and standards, undergraduate sources of stress, and cardiopulmonary science and its clinical education.

Projects
Development and implementation of the Doctor of Medicine Evaluation, Monitoring and Quality Improvement Framework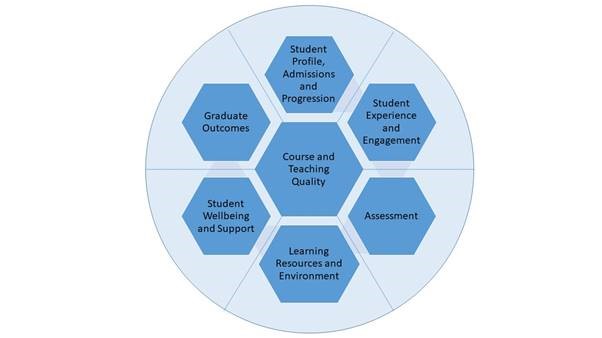 This framework outlines the purpose and approach to the evaluation of the Doctor of Medicine. The framework, aligned to the Higher Education Standards (2015), evaluates all components of the course (student profile, admissions and progression, student experience and engagement, assessment, learning resources and environment, student wellbeing and support, course and teaching quality and graduate outcomes) from the perspective of all stakeholders.

Notable Achievements
2019 Development and leadership of a university wide Professional Learning Framework to support Teaching Excellence and career development
2018 Australasian Academic Development Good Practice Award as part of the Council of Australian University Leaders in Learning and Teaching (CAULLT) for the Contemporary approaches to university teaching MOOC
Kym Fraser (Recipient), Linden Clarke (Recipient), Yoni Ryan (Recipient), Sue Bolt (Recipient), Natalie Brown (Recipient), Peter Copeman (Recipient), Caroline Cottman (Recipient), Marie (Bernie) Fisher (Recipient), Julie Fleming (Recipient), Tracy Frayne (Recipient), Ann Luzeckyj (Recipient), Coralie McCormack (Recipient), Kogi Naidoo (Recipient), Beatrice Tucker (Recipient)
2017-2019 Development and refinement of a University Quality Framework for Teaching and Learning Framework. This Framework supported the University's Learning and Teaching Plan and provided a quality assurance and improvement process for specific teaching and learning activities, quality indicators and measures, outcomes and targets that also align with the Threshold Standards.
2016-2019 Development and implementation of a University wide Teaching Excellence Criteria and Standards including the embedding of these criteria into position statements (new Teaching Academic Roles and Teaching and Research Roles) and promotion processes.
2015 Development of a new Australian Technology Network (ATN) Grants Scheme for Excellence in Learning and Teaching ($500K), guidelines and internal processes for managing applications
2009-2015 Roll out of eVALUate (a unit and teaching student and evaluation system) to four Australian universities
2009 Curtin Excellence and Innovation in Teaching Award (Citation Category)
Awarded to the Office of Teaching and Learning, Curriculum 2010 Team (Recipient) for Implementing an evidence-based approach to Comprehensive Course Review leading to increased student satisfaction with course learning experiences
2008 Faculty of Health Sciences, Excellence in Teaching Award, 2008 Awarded for Interprofessional Education
Leanne Stafford (Recipient), Victor Chuang (Recipient), Ravani Chetty (Recipient), Beatrice Tucker (Recipient), Luke Torre (Recipient) and Peter Gardiner (Recipient)

2007 Carrick Citation for Outstanding Contributions to Student Learning
eVALUate Project Team (Recipient)
Funding
2014 Implementation of the Australian University Teaching Criteria and Standards Framework, Australian Government Office for Learning and Teaching ($50,000)
2012 Australian University Teaching Criteria and Standards Project: Ref: SP12-2335, Australian Government Office for Learning and Teaching ($238,000)
2013 Measuring and improving student course engagement and learning success through online student evaluation systems: Ref: SD13-3308, Australian Government Office for Learning and Teaching Seed Project ($49,000)