PROFILE
Rosangela Tenorio
Academic and architect specialising in design for development
I am committed to creating beauty that enhances social development and instigates innovation with a strong message of affordability of resources and wellbeing with equity.Rosangela Tenorio
Dr Rosangela Tenorio is an Associate Professor at the School of Design with over 20 years of experience as an academic and a practicing architect.
Born in the northeast of Brazil, she worked mostly in affordable housing and slum-upgrading projects before continuing her training as she undertook graduate jobs in New York (Peter Eisenman architects), Milan (Piero Lissoni Associati) and Recife (Borsoi architects). She conducted postgraduate studies in Tokyo (Nihon Daigaku) and received a PhD in Environmental Design at the University of Queensland under the supervision of Dr Steven V Szokolay. Before joining UWA she worked at the University of Auckland (NZ) and University of Nottingham (China–UK).
Rosangela is committed to design for development, in particular self-sufficiency in schools where affordability of resources (environmental and financial) are key aspects in providing better living conditions.
"The built environment is a major contributor towards carbon emissions. Design for development and affordability is not only needed, but expected, in the twenty-first century. As an academic and designer, I strive for inventive and creative solutions that use very few resources, are meaningful and bring quality to communities while being culturally appropriate."
She is currently a project member in the study 'Towards biophilic, resilient green infrastructure: Perth as a case study', which argues for Urban Green Infrastructure as a foundation for a sustainable biophilic city. She is also involved on a pilot project in the island of Atauro-Timor-Leste, for the redesign of schools considering integration of curriculum and architecture to advance implementation of the Sustainable Development goals [SDGs].
She is also a co-founder of the Bio-Based Materials DESIGN Lab, a registered architect in Brazil [CAU-Amazonas], and on the Design Institute of Australia's WA brand Design Committee Jury.
"The UWA School of Design has an extremely diverse group of staff and students. The working ethics and level of professionalism from our staff and the engagement of our students is truly exceptional. This is where true academic innovation can flourish."
Qualifications:
BArch (Hons), Federal University of Pernambuco, Brazil
PGDip (Music Education), University of Waikato, New Zealand
PhD (Environmental Design), University of Queensland, Australia
Bio-based materials in developing contexts: changing public perception and fomenting bamboo research and industry partnerships for circular economies
This project investigates the use of bio-based materials in traditional and contemporary architecture, in particular bamboo and its role in fomenting a transition towards circular economies. It argues for a review in resources and implementation strategies that can remove barriers and contribute towards increase in local production, demand and consumption, by promoting added-value design and demonstration projects, comprehensive change towards conflict resolution on land tenure and community led resource management.
Find out more about the Bio Based Materials Design Lab here.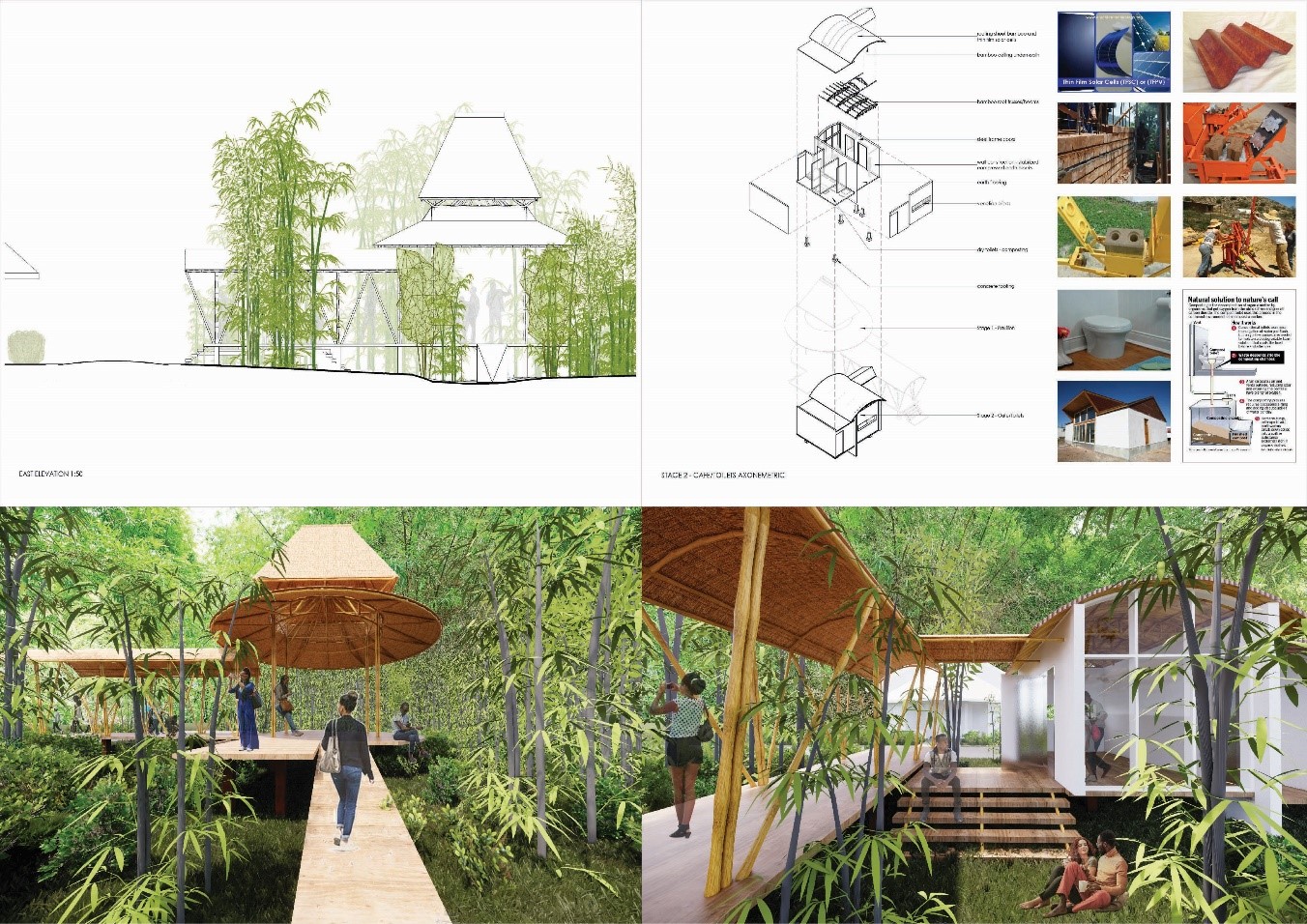 Instituto do Bambu Pavillion & Prototype Café Uma: Design by BBMDESIGNLAB.COM
Other projects
Rosangela is also currently working on these topics:
Bio-based construction materials design and performance in the context of circular economies
Thermal performance (roof and walls systems) in warming climates
Indoor air quality and energy efficient design of school buildings
Self-sufficiency in school buildings/remote communities
Building Integrated Photovoltaics (BIPV)
Urban Heat Island (UHI) in warming climates
Traditional and vernacular architecture of Timor Leste and CPLP (Community of Portuguese Speaking Countries)
Funding
---
2019-2020
Bavarian Research Award in partnership with the Coburg University of Applied Sciences and Arts, Germany
---
2018
Nottingham UK Cascade Impact Award
---
2017
Nottingham UK LifeCycle Award
I can't wait to get to work every day; it never gets tiring to think we have a chance to redesign our world and get our ideas into real contexts and real communities.Rosangela Tenorio
Supervisor opportunities
Rosangela has been supervising PhD students for 15 years, covering topics such as sustainable design, energy efficiency in buildings, self-sufficient schools, bio-based materials in design, earth construction and design, thermal comfort and housing design in tropical regions, and building integrated photovoltaics in housing.
She welcomes expressions of interest from prospective postgraduate students interested in relevant topics.